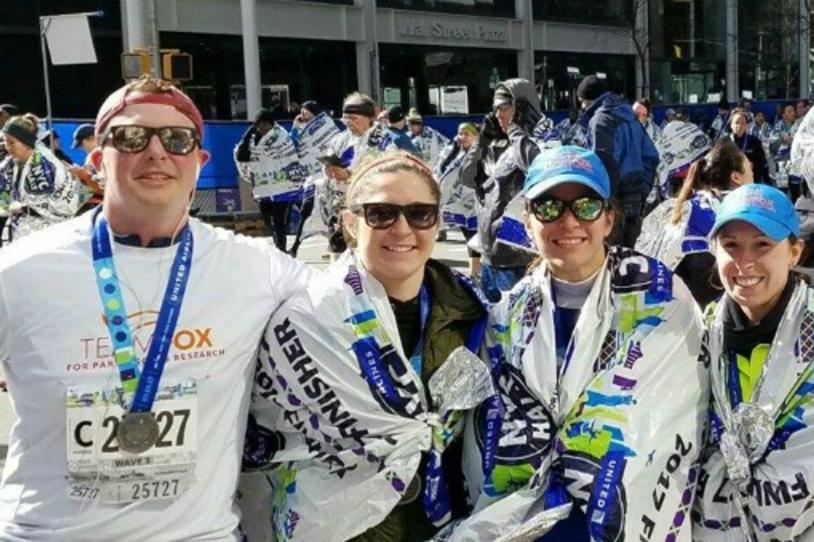 April is Parkinson's Awareness Month, and Team Fox is challenging its community to take action through athletics! We're encouraging runners, bikers and swimmers to turn their athletic passions into fundraising opportunities to help further research - whether it's your first race or one of many for this year, you can make an impact this April.
Picking a race can be half the battle. If you have your eye on an official race like the TCS NYC Marathon or the Bank of America Chicago Marathon, you can secure an entry today with Team Fox. Or, pick any race that speaks to you and participate solo or with friends and family. Either way, we would love for you to represent Team Fox out on the course while raising funds!
Here are a few fun ways for athletes to fundraise:
Set Donation Amounts: Set unique donation amounts to correspond with the distance of your race. Running a marathon? Ask for $1 per mile from each donor ($26.20).
Brand Yourself: Wear a Team Fox shirt during training runs. When people comment on your shirt, it's the perfect opportunity to talk about your fundraising efforts and ask for support.
Exercise for a Cause: Training at the gym for your upcoming race? Ask if there are opportunities to turn a Zumba or spin class into a fundraiser and invite friends and family to participate at a set donation amount.
Give Incentive: Offer to do something wacky and unexpected -- like wear an orange tutu or shave your head -- if you're able to raise a certain amount of money.
Acknowledge Donors: Tell donors who contribute a certain amount that you'll put their name on your race day shirt to acknowledge their support!
5K Your Way: Don't see a race you like? Create your own! In recent years, many Team Fox members have chosen to host a "Fox Trot 5K" in their hometown with proceeds benefiting the Foundation. If you're interested in learning more about organizing your own Fox Trot race, click here.
With 100 percent of Team Fox proceeds supporting the Foundation's high-impact programs to speed a cure for Parkinson's disease, now is the perfect time to make your miles count. By choosing a race and making a commitment today, you can help make this Parkinson's Awareness Month one to remember.