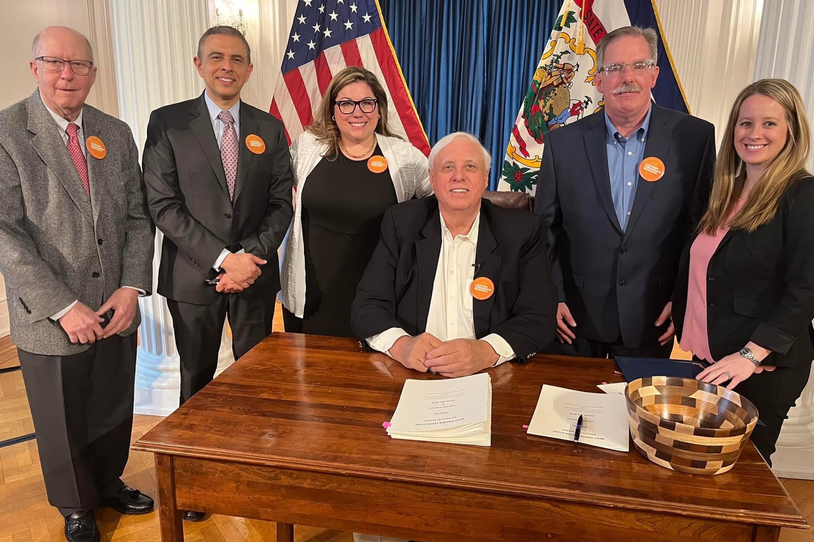 Editor's Note: Right now, we are asking Congress to help communities provide the foundation for better health. Tell your lawmakers people with Parkinson's deserve access to an environment that contributes to their health and well-being.
Over the past few months, The Michael J. Fox Foundation's (MJFF) public policy team in Washington, D.C. has been hard at work alongside grassroots advocates in our Parkinson's Policy Network to advocate for more research and better care.
In this blog, we share some updates and what's next for Parkinson's public policy.
Advocating Virtually and On the Road
During Parkinson's Awareness Month this past April, our advocates made their voices heard at the local, state and federal levels. Advocates forged new connections with state and local legislators to get 19 proclamations acknowledging Parkinson's Awareness Month passed in their own backyards. Thank you to all who took part in amplifying the voices of the Parkinson's disease (PD) community this April! 
This month, MJFF advocates across the country and our policy team took (virtually) to Capitol Hill to push for robust funding for PD appropriations priorities, including the U.S. Department of Veterans Affairs Parkinson's Disease Research, Clinical and Education Centers (PADRECCs). This funding would provide crucial support and care for the approximately 110,000 veterans in the U.S. living with Parkinson's. So far, on behalf of the PADRECCs, our community has sent over 4,200 emails, submitted 77 written appropriations requests, organized a Dear Colleague letter with 24 offices signing on in the House, and met with 48 offices. Thank you! If you or a loved one are a veteran with PD and would like to share your story and get involved, please contact us at policy@michaeljfox.org.  
Across the country, our state government affairs team has been busy in several states working to pass Parkinson's registry bills before state legislatures adjourn sine die (Latin for "without a day" meaning finished for the year). To date, registry bills have been introduced in the following states: Hawaii, Ohio, Michigan, South Carolina, Maryland and West Virginia. And with your local help, we've passed bills in Maryland and West Virginia! By the time you read this, it is our hope that we can add two more states to the victory list.  
These bills establish a program that helps states identify potential Parkinson's "hot spots" so that researchers can better understand possible environmental triggers and other patterns of PD. If you live in those states and are looking to get involved, please email policy@michaeljfox.org so we can connect with you. 
Last, the State team partnered with the Parkinson Association of the Rockies and the Davis Phinney Foundation for an in-person Parkinson's Legislative Awareness Day on April 28 in Denver, Colorado. More than 30 advocates and over a dozen elected officials attended and learned about what policy initiatives our organizations are working on in Colorado and across the country. Forty-six states will face state legislative elections this November, and pollsters predict there could be a 30 percent turnover in each state capital. This means that the 2023 state legislative sessions will be a crucial opportunity for education and outreach to your local legislators.
What's Next for Policy
This summer, our state team will begin strategizing for next year's legislative sessions. If you'd like to get involved on the ground floor to organize for a Parkinson's disease registry in your home state, contact policy@michaeljfox.org and our team will reach out to you.  
In August, federal lawmakers return to their states and districts for what is known as August recess. This is the perfect time for you to start new or build on existing relationships with your representatives close to home.
For those in our Parkinson's Policy Network, thank you for your advocacy.
If you're interested in getting involved in advocacy, please join our network and become an advocate today.