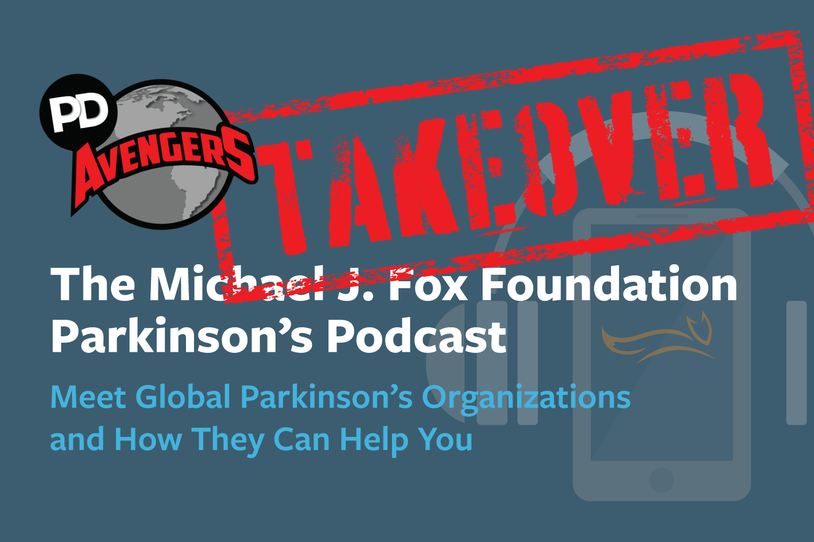 Grab your headphones and turn up the sound on your favorite podcast app! Join the PD Avengers, a global alliance of Parkinson's disease (PD) advocates, as they take over The Michael J. Fox Foundation's (MJFF) podcast for a special two-part episode, airing today, August 25 (part one), and Wednesday, September 1 (part two).
Hosted by the co-founders of the PD Avengers — Larry Gifford, Tim Hague and Soania Mathur, MD — the two-episode takeover offers a glimpse into the many organizations and resources people living with PD and their families can look to for insights and support.
"The truth is we can never have enough people helping people with Parkinson's live a better life and search for a way to end this disease," said Soania Mathur. "Parkinson's was identified more than 200 years ago. And since then, humanity has put men on the moon, eradicated polio, changed HIV from a death sentence to a chronic illness, has mapped the human genome, and discovered thousands of galaxies among the stars. And yet the gold standard treatment for Parkinson's is still a 50-year-old medication."
Featuring interviews with MJFF, Cure Parkinson's, the Brian Grant Foundation, the Davis Phinney Foundation, Parkinson's Foundation (among many other groups!), the takeover conversation unites Parkinson's organizations by guiding podcast listeners on the latest in Parkinson's wellness, advocacy and research.
The power of the PD community cannot be understated. As Michael J. Fox has said: "When the cure for Parkinson's is found — and it will be — it will be because of all of us, working together." Tune in to the podcast (on iTunes or through any podcast app) and find ways to connect with an organization that can support you and your family on your journey with Parkinson's. Then, browse an entire list of Parkinson's organizations and support groups around the world by visiting PDAvengers.org/partners.