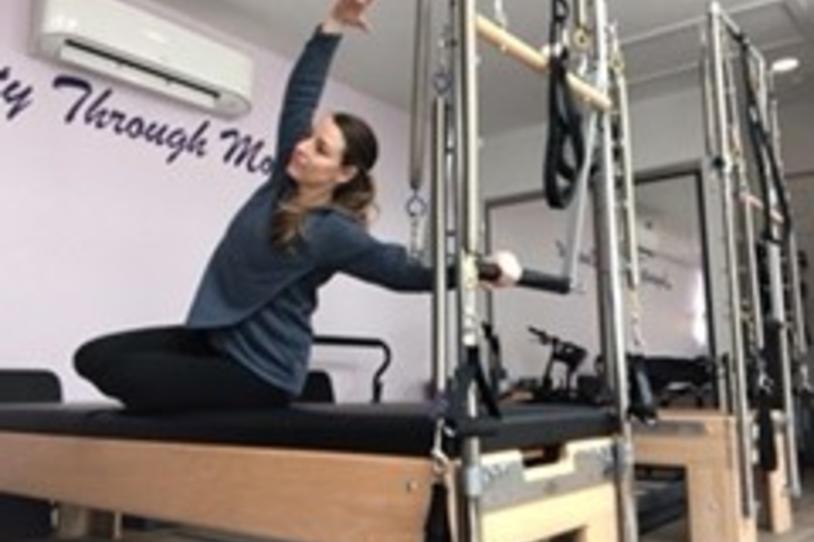 Editor's Note: Many ask about the best exercise for Parkinson's disease (PD). Many are beneficial and no one has yet been proven better than others. The best exercise is the one you'll do! That's one your care team approves, gets your body moving, and is safe and enjoyable.
In this blog, Michael J. Fox Foundation supporter Peter Klein, who was diagnosed with Parkinson's in 2015, shares his experience with Pilates. He speaks with certified instructor, Deborah Kenner, known for her research in movement interventions and programs for people living with PD. Peter started his journey with Pilates four years ago with two main goals: to reduce pain from and strengthen his back and to improve Parkinson's motor symptoms.
Peter: Can you explain Pilates to someone who isn't familiar with it?
Deborah: Pilates is a series of exercises designed to improve core strength, posture, balance and flexibility. These exercises become a complement to daily activities and enhance quality of life without the burning sensation attributed to working too hard.
Peter: You know what Pilates means to me — what has it done for you and how did you get into teaching it?
Deborah: I have always been attracted to movement. I began ballet training when I was five and continued with a professional career that lasted 10 years. During my teens, while training at Ballet West Conservatory, I was introduced to Pilates and am confident that it kept me injury-free for the duration of my dancing career. I realized that with my background as a dancer and love of anatomy, I could help others with movement. I have since worked with multiple people with PD and have trained specifically in Pilates courses for managing neurological issues.
Peter: What are some of the benefits of Pilates for people with PD?
Deborah: In my opinion, Pilates is helpful to people with PD because the work is a complete mind-body experience that focuses on stability and mobility. The movement is modifiable, feels comfortable, and is easily transferred to activities of daily living.  
Two of the key principles of Pilates — center and breathing — are important for people with PD. Center, or core, is the basis for maintaining balance. All activities in Pilates begin with core engagement that provides stability and gives us the freedom to move without fear. Breathing is the very basis of life, but unfortunately, many people are not utilizing efficient breathing. For a community already experiencing tightness and stiff muscles, training the breath can feel like a relief that assists movement.
Peter: Can you talk about the equipment in a Pilates studio, and how you can adapt it for people with PD?
Deborah: Pilates equipment uses resistance through a variety of springs rather than bands or weights. The client must practice control as the spring opens and closes, enhancing the functional movement of muscles. The Pilates method is unique in that modifications are endless and creatively adjusting equipment used for every individual allows them to succeed. In my experience, the equipment can be used in a myriad of ways depending on the person's needs, making Pilates accessible to people with all levels of fitness.
Peter: What should a person with PD look for in a Pilates instructor?
Deborah: I suggest looking for an instructor with a recognized certification that requires more than 500 hours on all apparatuses; anatomical education and knowledge; understanding of Parkinson's symptoms and the ability to perform assessments of movement quality and daily symptoms; creativity to modify and intensify exercises; and the ability to problem solve, listen and adjust programming with ease. Working with special populations is a standard certification for many Pilates instructors. I attended training to understand the needs of people with neurological symptoms. A deep understanding of anatomy and simple kinesiology allows me to troubleshoot creatively to find the most appropriate exercises. Outside of qualifications, it's of course, important to find someone you like working with and who can be a good partner in your fitness journey.
Want to learn more about exercise? Watch an Ask the MD video or read our blog about exercise and Parkinson's.
The medical information contained in this article is for general information purposes only. The Michael J. Fox Foundation for Parkinson's Research has a policy of refraining from advocating, endorsing or promoting any drug therapy, course of treatment, or specific company or institution. It is crucial that care and treatment decisions related to Parkinson's disease and any other medical condition be made in consultation with a physician or other qualified medical professional.