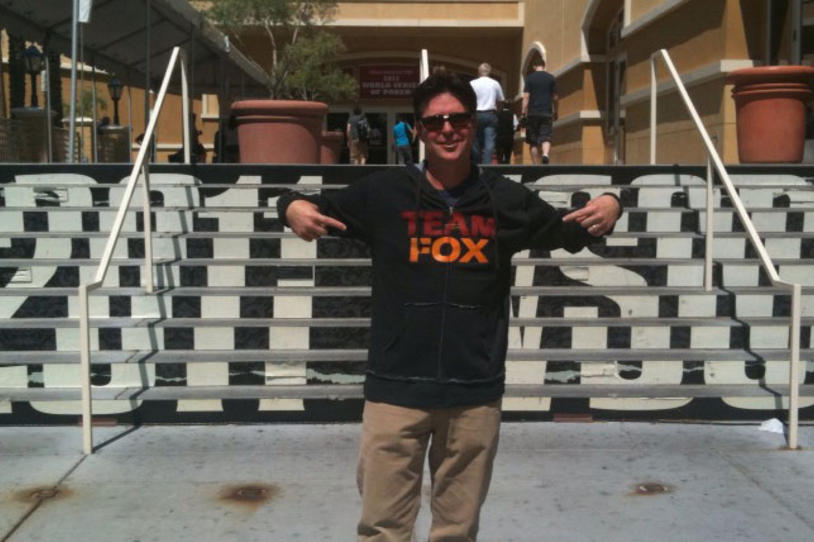 In 2006, then-MJFF board member David Einhorn and future board member Justin Lepone headed to Las Vegas to try their hand in the World Series of Poker. After placing 18th, David walked away with over $650,000. But he wouldn't hang on to it for long. He donated his entire pot to The Michael J. Fox Foundation.
That sparked an idea for David, president and co-founder of Greenlight Capital, Inc., where Justin is a partner: to keep playing poker to raise funds for Parkinson's research. Playing to Win, the Foundation's annual poker tournament, was born, and has raised nearly $3 million to date.
Justin, who shares David's passion for poker, quickly got involved in the Foundation's tournaments. During the summer of 2011, they decided to try their luck again at the World Series of Poker. This time, they assembled a team, Poker for Parkinson's, and called upon the expertise of their friend and World Poker Tour champion, Phil Gordon. The 11 players, including Phil as coach, went all in to get a win for Parkinson's. Justin made it to the fourth day of playing, and was the team's last man standing.
Not long after, Justin stepped up his involvement with the Foundation and joined the Leadership Council. He says, "It's easy for me to want to be a part of this. It's a top-notch organization." He recalls being a teenager in the '80s and watching "Family Ties," and later the Back to the Future trilogy. "I'd been the 103-pound wrestler in high school, so I could identify with Michael J. Fox. I think he inspired then a generation of underdogs like me. And he's been a real inspiration in my life ever since."
Justin and David are doubling down and going back to Las Vegas and the World Series of Poker. Once again, they're bringing with them the Poker for Parkinson's team. They have the first (David) and third place (Justin) winners from this year's Playing to Win tournament, along with the second place winner. Let's hope the odds are in their favor this July! Stay tuned to follow their progress.