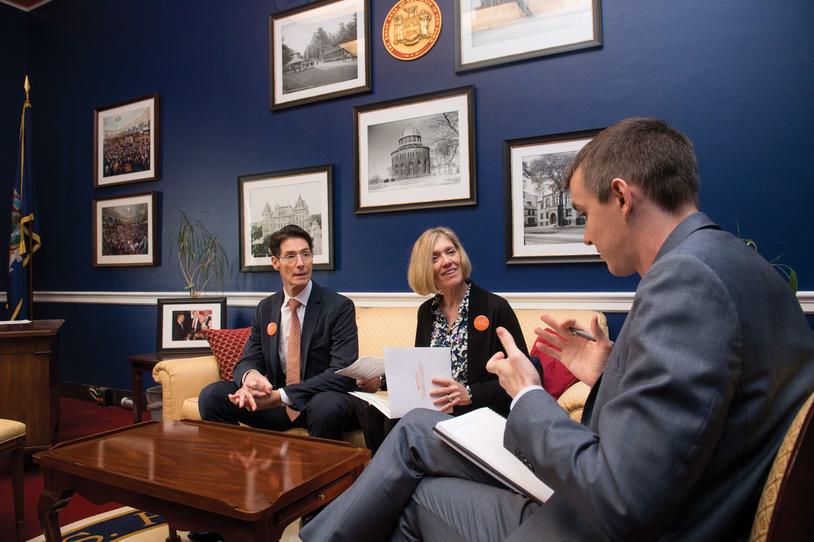 The following story appeared in our Fall/Winter 2020 edition of The Fox Focus on Parkinson's newsletter. For this story and more, download the full edition.
As people living with Parkinson's know, you are — and often must be — your own best advocate for your care. No one knows the disease better than those who live with it every day. And that advocacy extends beyond the doctor's office. We, as a community, need to advocate with lawmakers to help them see how their decisions and actions have a reverberating impact on millions of Parkinson's patients, families and  care partners.
In our evolving digital world, and especially now during COVID-19, anyone can be an advocate with just a few clicks, a phone call or a cast ballot. And we have power in numbers.
The Michael J. Fox Foundation, alongside a nationwide network of grassroots advocates, is actively working to ensure government policies accelerate the development of Parkinson's disease therapies and increase quality of life for the Parkinson's community. By raising our voices together, we can influence public policy.
"The ability for us to actually educate Members of Congress is so important," said Israel Robledo, a member of The Michael J. Fox Foundation Patient Council and long-time policy advocate. "Being diagnosed with Parkinson's and knowing that my voice could be used to help improve the quality of life of people with Parkinson's through public policy has been important." 
With just a few steps, you can unlock many possibilities to affect real change in Washington D.C. Start your journey to becoming a public policy advocate today. 
Do Your Election Homework
Prepare for Election Day on November 3 by researching candidates running for the U.S. House of Representatives and the U.S. Senate, as well as the candidates running for President. Find out whether they support federal funding for medical research and a cure for Parkinson's. Specifically ask if they plan to increase funding for the National Institutes of Health, which is responsible for allocating taxpayer dollars each year to research, including Parkinson's.
Vote! Vote! Vote!
Voting is one of the most impactful things you can do to influence public policy. Visit vote.org to register or confirm your registration. Every state has its own deadlines and changes are being made to adapt voting practices (either in-person or via absentee ballot) in the COVID-19 environment. 
Make Headlines
Depending on your platform, there are other ways to reach your Congress member. Connect with legislators by tagging them on social media. Or, you can write about Parkinson's-related policy issues for your local newspaper.
Contact Congress Directly
Sign up for email action alerts from MJFF that provide an easy way to communicate with your Members of Congress about issues important to our community. With just a few clicks, fill out a templated email at michaeljfox.org/advocacy and make your voice heard in Washington D.C.
Your voice is critical to prioritizing Parkinson's research  in D.C. Learn more at michaeljfox.org/advocacy.