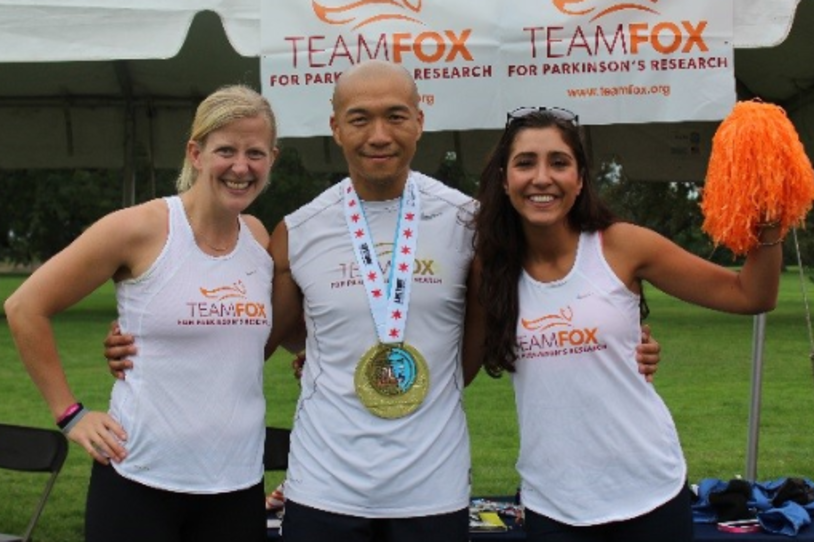 Standing between the marathon runner and the finish line is 26.2 miles of pavement. Months of training test runners as they fly by sidelines full of cheerleaders and painted signs.
Now imagine running a marathon with Parkinson's.
Jimmy Choi is a marathoner, Team Fox member, husband and father living with Parkinson's disease (PD). In the hopes of inspiring the PD community, Jimmy recently shared his journey to becoming an avid marathoner with the NY Observer and Runner's World.
At 27, after a diagnosis of young-onset Parkinson's disease, Jimmy admits he was in denial. For the first eight years he progressed to the point he needed to walk with a cane. Then, one day he fell while carrying his infant son down the stairs. This became his turning point.
Soon after, Jimmy realized that physical activity could be a major motivator and he started running. First he completed a 5k race, then a half marathon and then he began training for the full Chicago Marathon. When the marathon spots were filled, Jimmy sought other opportunities of running under a charity bib. And that's where he came across Team Fox. And the rest, so they say, is history.
For Jimmy, running with Team Fox has changed the course of his life: "What I thought was just a ticket into a race became probably one of the biggest and most life-changing decisions I've made." The upcoming TCS New York City Marathon will be his ninth marathon, and to date, Jimmy has raised more than $40,000 through his Team Fox athletic events.
In total, 130 Team Fox members (including seven who have PD) will run the NYC marathon this Sunday. They are on track to raise an impressive $1.1 million collectively — 100 percent of which will go directly to the Foundation's research programs.  
Good luck to Jimmy and all Team Fox NYC marathoners! Look for the bright orange Team Fox gear, and we'll be proudly cheering you on from the sidelines.
Read Jimmy's full story in the NY Observer and Runner's World.
Want to run a marathon with Team Fox yourself? Submit an interest form today.