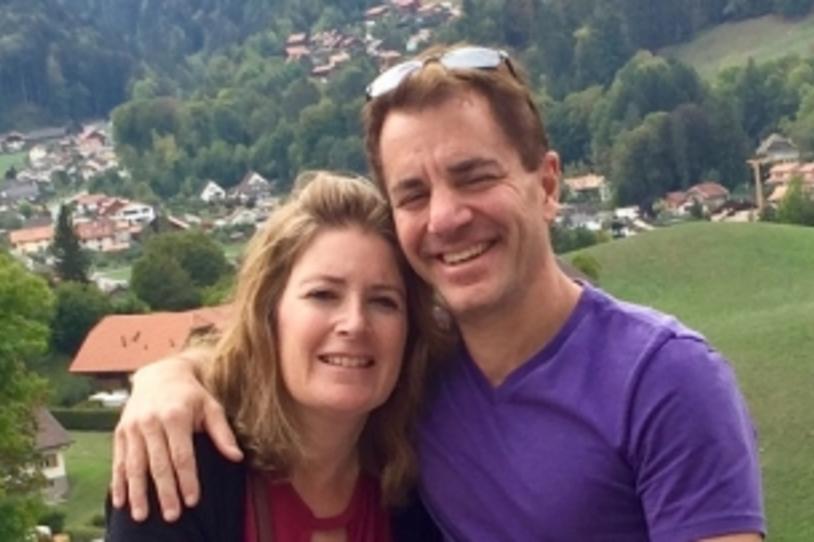 When Jeff Zanchelli laces up for the TCS New York City Marathon this Sunday, he will match his attitude with that of his wife, Michele, who continues to maintain a positive outlook after being diagnosed with Parkinson's disease (PD) in 2015 at age 48. "Rather than crawling in a hole, she tackles the disease. She joined a PD exercise group and keeps people's spirits up. She's changed a lot of her lifestyle and is incredibly positive," says Jeff.
He hadn't done much running for the past 13 years, but his desire to support Michele drove him to get "off the couch. For a great cause, not because I necessarily wanted to run 26.2 miles," he says. Jeff joined Team Fox and set out to fundraise $5,000. He was overwhelmed with the response.
Within a month, he surpassed his goal and adjusted it to $13,500 (or $500 per mile). When he hit that, he aimed for $26,200 ($1,000 per mile). Heading into the race weekend, Jeff is almost at his new goal: $42,195 ($1,000 per kilometer)!
Their 25-year-old son kicked off Jeff's fundraising with a large donation and their two younger sons followed. Jeff's sister forwarded it to her coworkers and he reached out to his own colleagues and clients around the world. Family members and close friends gave generously. Donations poured in from 20 states and 12 other countries.
"Having the Fox platform really enhanced the fundraising aspect," he says. "When I ran my last charity event 13 years ago, I wasn't going to get checks from China or Australia." He loves the instant gratification when Team Fox sends an email about a contribution and finds it rewarding knowing how many people support his family.
"I'm positive we're going to see a cure in my lifetime," says Jeff.
Until then, he will hit the pavement with Team Fox on Sunday and attack the race with the same intensity his wife approaches Parkinson's.

Explore opportunities to join Team Fox for an upcoming athletic event or email athletes@michaeljfox.orgto learn more.