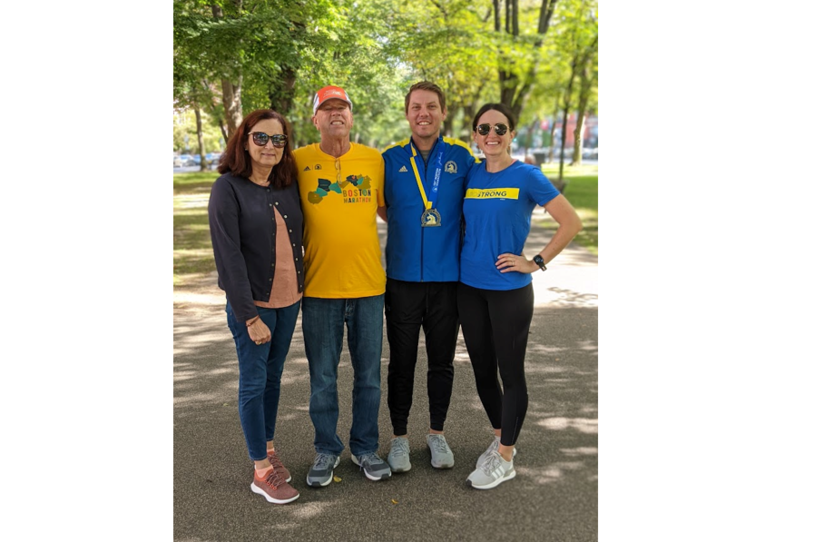 Community matters to Aaron and Bethany Parker of Nashville, Tennessee. When Bethany's father was diagnosed with Parkinson's disease in 2016, the couple searched for a network that would help them understand the diagnosis and share their desire to see Parkinson's eliminated. Through a "Concert for a Cure" event hosted by Team Fox Nashville, the Parkers found community in Team Fox, the grassroots fundraising arm of The Michael J. Fox Foundation. Team Fox has chapters for young professionals across the country that are committed to helping raise funds and awareness for Parkinson's research.
"Getting connected to a community of people who were all walking through the same circumstances and the uncertainty around a diagnosis was really meaningful," Bethany says. "It was comforting to know we weren't alone."
As the Parkers became more involved with Team Fox, Bethany learned of an opportunity to run the Boston Marathon, a longtime dream of hers. The opportunity became more meaningful by the chance to fundraise for The Michael J. Fox Foundation as a charity participant. An avid runner, she said yes, and got a spot in the 2020 event. When the pandemic and a health-related of her own prevented Bethany from participating, Aaron stepped up to take her place.
"Signing up to run such a prestigious race and having so many people say, 'I'm thankful for what you're doing because of my own personal connection with Parkinson's,' added importance to what we were doing," Aaron says. "We were there to accomplish a dream to run the Boston Marathon but raising support and awareness for people with Parkinson's made it more significant than our own goals and dreams."
The Parkers' Boston Marathon participation raised $31,600 for the Foundation – and they didn't stop there. The couple continue their support through annual gifts and have established a gift in their estate plan to ensure the ultimate goal: a cure for Parkinson's.
"So often we correlate a transformative gift with the gift's size," Aaron says. "But seeing how individual gifts enabled our participation in Boston is an illustrative example of how all gifts come together to realize a goal. We know our gift, joined with others, will have a transformative impact on the community we know and love. That's life changing for both of us and those served by the work of MJFF."
"Since my dad lives eight hours away, I'm not able to drop a meal by or go to a doctor's appointment very easily," Bethany adds. "Through our involvement with Team Fox Nashville and the larger Team Fox community, annual support and now this planned gift, we can make a difference not only in my dad's life, but also in the lives of the six million others around the world living with Parkinson's."
Like the Parkers, you can make a difference to The Michael J. Foundation through a variety of gift options. Find out which option could be right for you by contacting The Michael J. Fox Foundation at 212-509-1524 or plannedgiving@michaeljfox.org.