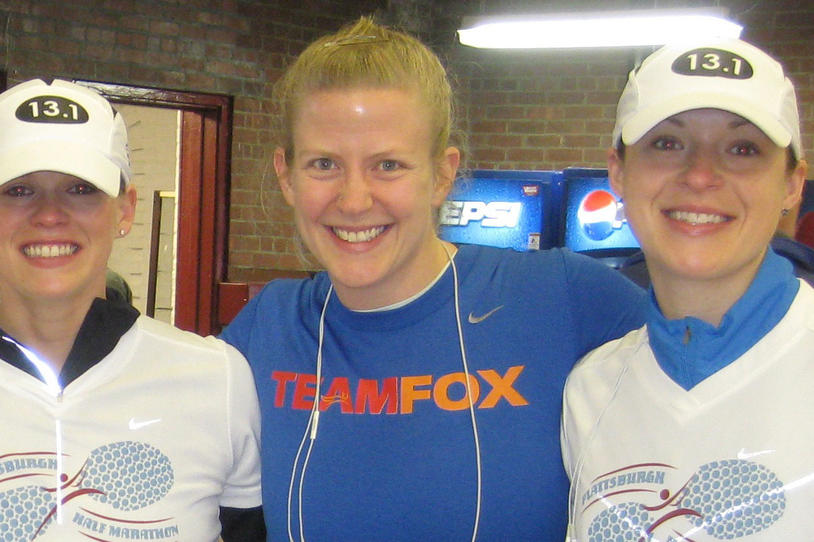 Even before my dad's diagnosis of Parkinson's disease, I knew about — and admired — Team Fox. So when the news came in 2009, there was no question that I'd raise money for Team Fox. I just didn't know how. Since I had already run several half marathons, I kept returning to the idea of hosting a race. Coincidentally, I ran into a friend of mine, Jennifer Boyer, who had created a race on her own. We realized there were a number of 5K runs and walks in our area, but no half marathons. And the Plattsburgh Half Marathon was born!
Jen, along with Steve Peters from the City of Plattsburgh Recreation Department, helped me organize the first Plattsburgh Half for April 2010, which we've run (behind the scenes and on the course) for three years now. Going into this, we had no idea what to expect. But within three weeks, we closed out our registration with 500 people! And we brought in over $24,000 for Parkinson's research. It was clear to me then that our race fulfilled a real interest — and a real need — in the community. Last April we had 1,000 runners and raised more than $35,000. This year our event will be on April 22, and we've added a two-person relay. We're on track and already have over 900 runners. To earn a dollar-for-dollar match through the Brin Wojcicki Challenge, we've stepped up our fundraising goal to $50,000.
Not only do hundreds of runners take part in the Plattsburgh Half Marathon, raising thousands of dollars to help speed a cure for people like my dad, but the entire community gets involved. A local Parkinson's support group comes out in full force each year, setting up an informational booth and cheering our runners along the way. Last year my dad even fired the starting gun for the race.
Looking back, I still think of that first year. We pulled in at 4:30 in the morning, and I watched our banners and flag being hung. I was simply overcome with emotion. It's a remarkable feeling to be able to do something like this for the community, and for such an important cause. The Plattsburgh Half has brought people together in ways I couldn't have imagined three years ago. So on April 23, we'll start planning for next year!
Stephanie Desautels joined Team Fox in 2009, hosting her first Plattsburgh Half Marathon in April 2010. It's the only Team Fox-organized half, and this year's race will be held on April 22, 2012, in Plattsburgh, New York. For more information, visit www.plattsburghhalfmarathon.com.