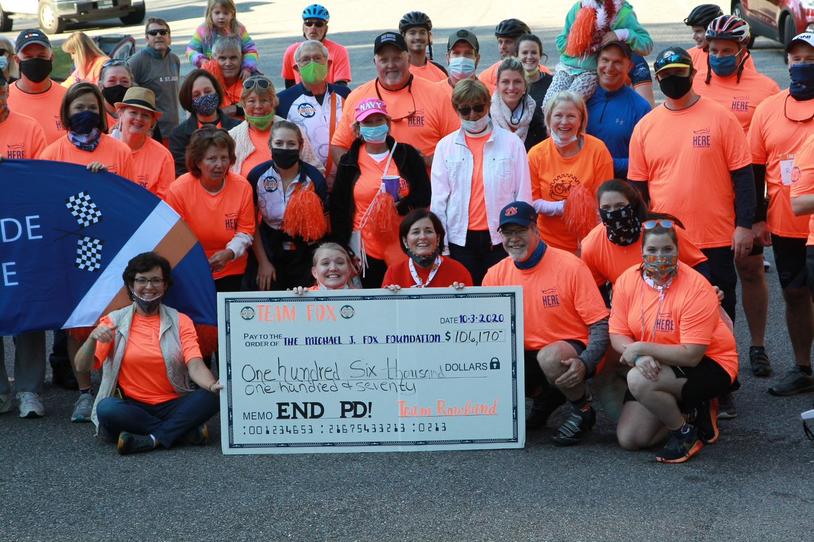 The following story appeared in our Spring/Summer 2021 edition of The Fox Focus on Parkinson's newsletter. For this story and more, download the full edition. 
From Colorado to Connecticut and even across the globe in Australia — the Rowland family's commitment to a cure has inspired action worldwide.
After Mike Rowland, of Birmingham, Alabama, was diagnosed with Parkinson's disease at age 54, his wife Stacy and their daughters Katie and Maggie looked for ways to help advance research. And in 2017, they found their inspiration from an unlikely source: "My 80-year-old grandparents strapped their bikes on the back of their Prius and drove from upstate New York to Greenville, South Carolina to ride a combined 55 miles for Parkinson's," says Maggie. The entire family joined the ride, which was part of The Michael J. Fox Foundation's Tour de Fox cycling series. With a team of 20 riders, Team Rowland raised an impressive $65,000 that year.
"For me and other families living with Parkinson's, one of the amazing benefits of this event is what you learn through the process and seeing how many lives have been touched by Parkinson's that you may not have known before," says Stacy.
After that first ride, the Rowland family was hooked. In 2018 and 2019, they grew to become one of the Foundation's largest Tour de Fox teams, with supporters flying in from all over the country to participate. "We thought we had this small circle of support, and we ended up having a group that we couldn't even put into words before. It's incredible to see people show up again and again for us," says Maggie.
Riding Through a Pandemic
When the COVID-19 pandemic halted the Foundation's in-person events in 2020, Team Rowland held on to their optimism and enthusiasm. They joined our resilient community of passionate and motivated fundraisers around the world for the Foundation's first ride-from-anywhere event. Recruiting a total of 74 riders (both socially distanced and virtual), Team Rowland not only adapted to meet the moment, but they went full speed and raised over $130,000.
And they're not slowing down. With over $380,000 raised to date, the Rowland family is now preparing to host their own cycling event in Birmingham, Alabama on October 2, 2021. "It's our challenge to broaden our network and reach more people," says Mike. "We're looking forward to being together and making this event sustainable and something that will outlive us."
Over the years, the Rowlands have become a resource for newcomers looking to get involved in the Foundation. At the same time, they've found encouragement and motivation from within the MJFF community. "Sometimes it's just about going on The Michael J. Fox Foundation website and reading the tagline 'Here. Until Parkinson's isn't,' and knowing that you have a support system when you need it," says Katie.
This summer, create your own course in MJFF's Virtual Tour de Fox ride on August 28. Learn more and sign up at tourdefox.org. And, to join Team Rowland in-person or virtually this fall, visit here.