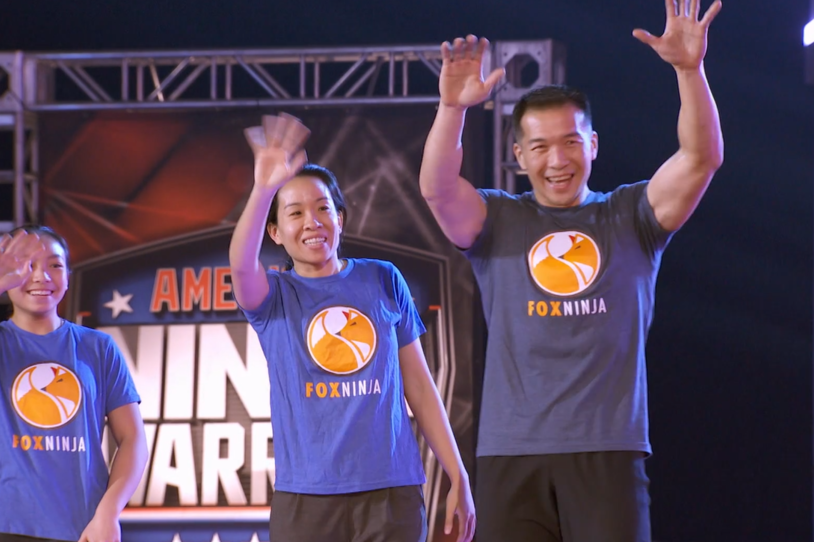 In case you missed it, last night, five-time American Ninja Warrior (ANW) veteran athlete and Team Fox member Jimmy Choi, age 45, took on his final obstacle run during the American Ninja Warrior Family Special for a chance to hit the challenging to reach buzzer. Diagnosed with young-onset Parkinson's disease (PD) in 2003 at 27, Jimmy has used his diagnosis and his appearances on ANW to advocate for PD awareness.
Before Jimmy took on his incredible last run alongside his daughter Karina, 13, and cousin Miinkay, 35, the audience was reminded of his inspirational journey over the years on the famed obstacle course.
ANW co-host and MJFF Board member Akbar Gbajabiamila shared: "Watching Jimmy Choi compete with Parkinson's on American Ninja Warrior is so inspirational. My father has Parkinson's, and it was Jimmy who really inspired me to get involved with The Michael J. Fox Foundation. Thank you, Jimmy."
During the episode, audience members caught a glimpse of Jimmy's fans across the country cheering him on, including our very own intrepid founder who shared words of wisdom with Jimmy before taking off:
"This is your moment pal. This is what you've trained for. You've stayed up late thinking about it — now is your moment. Grab it, seize it, hold it, run with it. No one can take it away from you. You're a hero to me, a hero to everyone living with Parkinson's, a hero to your family, a hero to anyone with a pulse. Go and kick butt," said Michael J. Fox.
Jimmy's story on confronting his diagnosis head-on continues to inspire all of us at The Michael J. Fox Foundation and the worldwide PD community.
"For me to be able to finish and hit the buzzer on top of that 'Warped Wall,' I think there's no better or more perfect way to close out my American Ninja Warrior career," said Jimmy.
Cheer on our very own "Fox Ninja," see him run toward the buzzer and watch his final hurrah on NBC below:
Inspired? Here are a few ways you can be part of our mission to cure Parkinson's, too: