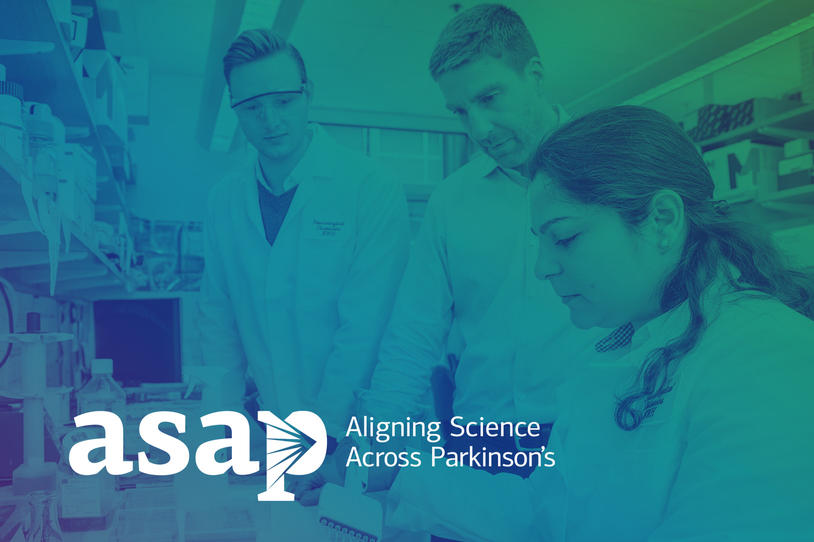 Today the Aligning Science Across Parkinson's (ASAP) initiative and The Michael J. Fox Foundation announce more than $161 million in grants to 21 research teams working to uncover the biological causes of Parkinson's onset and progression.
ASAP works to advance targeted basic research for Parkinson's disease and is partnering with The Michael J. Fox Foundation to implement its programs. [Read more on ASAP and MJFF's role.]
These grants are the first to ASAP's Collaborative Research Network, which funds and unites multidisciplinary, multi-institutional teams to address key knowledge gaps around the basic mechanisms of Parkinson's disease. Findings from these projects could identify new therapeutic targets and disease measures that could accelerate development and testing of new treatments.
"There is opportunity for seismic impact in Parkinson's science today, with smart minds applying cutting-edge technologies to this complex disease. ASAP is providing the funding and resources to fuel the deep and sustained investigations necessary to unlock the causes and contributors of Parkinson's disease, and we are proud to partner with these exemplary researchers toward that shared goal," said ASAP leadership.
The first round of grants provides significant funding over three years to teams from across institutions and career stages. The projects are investigating either the biology of Parkinson's-associated genes or neuro-immune interactions, and all generated data and results will be made available to the broader research community. Click through below for more on each project and team.
On September 22 ASAP will launch its second funding round for the Collaborative Research Network, calling for applications into circuitry and brain-body connections. Information on that program will post on the ASAP website and our Funding Opportunities page.
Biology of PD-associated Genes
Mapping the LRRK2 Signaling Pathway and Its Interplay with Other Parkinson's Disease Components
Dario Alessi, Monther Abu-Remaileh, Miratul Muqit, Suzanne Pfeffer
Impaired Integration of Organelle Function in Parkinson's Disease
Pietro De Camilli, Shawn Ferguson, Kallol Gupta, Karin Reinisch, Timothy Ryan
Dissecting the Mechanisms Underlying Disease Progression 
John Hardy, Zane Jaunmuktane, Frances Platt, Mina Ryten, Maria Spillantini
Mechanisms Overwhelming Protein and Organelle Quality Control in Parkinson's Disease
J. Wade Harper, Ruben Fernandez-Busnadiego, Judith Frydman, Franz-Ulrich Hartl, Brenda Schulman
Mechanisms of Mitochondrial Damage Control by PINK1 and Parkin 
James Hurley, Erika Holzbaur, Michael Lazarou, Sascha Martens, Eunyong Park
In Vivo Approach to Elucidate the Pathobiology of Parkinson's-associated Genes Using Human Diseased Neurons
Deniz Kirik, Jennifer Johnston, Clare Parish, Lachlan Thompson, Carolyn Sue
Senescence in Parkinson's Disease and Related Disorders
Michael Lee, Jose Bras, Darren Moore, Laura Niedernhofer
Cellular Mechanism of LRRK2 in Health and Disease      
Samara Reck-Peterson, Stefan Knapp, Andres Leschziner, Florian Stengel, Elizabeth Villa
Dissecting Genetic Interactions of Parkinson's Disease-associated Risk Loci
Donald Rio, Helen Bateup, Luke Gilbert, Dirk Hockemeyer, Frank Soldner
Parkinson5D: Deconstructing Proximal Disease Mechanisms across Cells, Space and Progression
Clemens Scherzer, Xianjun Dong, Mel Feany, Joshua Levin, Su-Chun Zhang
Defining the Cellular and Molecular Determinants of Variable Genetic Penetrance in Parkinson's Disease
Lorenz Studer, Gist Croft, Vikram Khurana, Jian Peng, Joseph Powell
IMPACT-PD - Implications of Polyamine and Glucosylceramide Transport in Parkinson's Disease
Peter Vangheluwe, Tim Ahfeldt, Veerle Baekelandt, Joseph Lyons, Ellen Sidransky
Understanding Inherited and Acquired Genetic Variation in Parkinson's Disease through Single-cell Multi-omics Analyses
Thierry Voet, Stein Aerts, Guy Boeckxstaens, Christos Proukakis, Bernard Thienpont
Mapping the PD Brain: Oligomer-driven Functional Genomics
Nicholas Wood, Sonia Gandhi, Steven Lee, Mina Ryten, Michele Vendruscolo
Neuro-immune Interactions
From Cancer Associations to Altered Immunity in the Pathogenesis of Parkinson's Disease
Xiqun Chen, Timothy Chan, Weiyi Peng, Michael Schwarzschild
Role of PD-related Proteins as Drivers of Disease through Modulation of Innate and Adaptive Immunity
Michel Desjardins, Samantha Gruenheid, Heidi McBride, Jo Anne Stratton, Louis-Eric Trudeau
Tracing the Origin and Progression of Parkinson's Disease through the Neuro-immune Interactome
David Hafler, Sreeganga Chandra, Rui Chang, Noah Palm, Ramnik Xavier
Activation of Transposable Elements as a Trigger of Neuroinflammation in Parkinson's Disease
Johan Jakobsson, Roger Barker, Molly Hammell, Agnete Kirkeby
Co-Pathologies Drive Neuroinflammation and Progression in PD
Jeffrey Kordower, Ashley Harms, Warren Hirst
The Genome-Microbiome Axis in the Cause of Parkinson Disease: Mechanistic Insights and Therapeutic Implications from Experimental Models and a Genetically Stratified Patient Population
Anthony Schapira, Fabio Blandini, Michela Deleidi, Donato Di Monte, Stanislav Ehrlich
Adaptive Immunity in the Etiology and Progression of Parkinson's Disease
David Sulzer, Cecilia Arlehamn, Ashley Harms, Sarkis Mazmanian