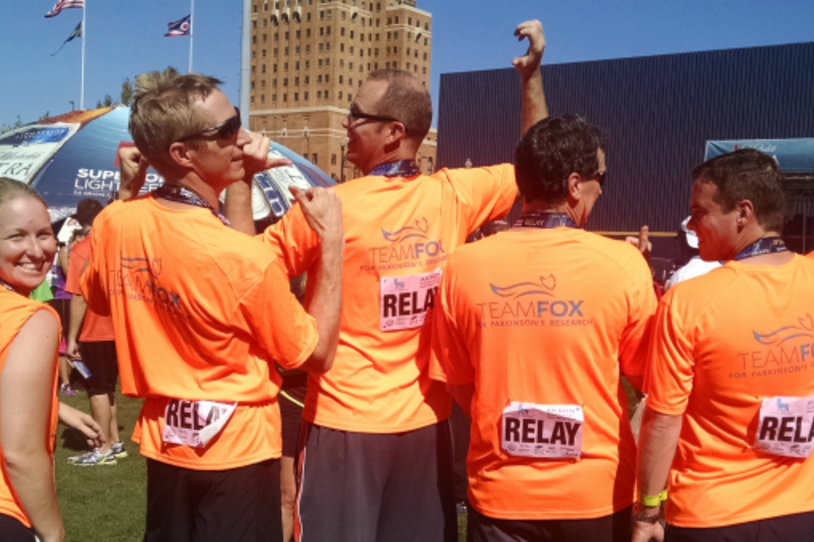 Meet Glenn Leppo from the Akron, Ohio area. He'll be riding in the Tour de Fox Series Great Lakes event on Saturday, July 16 (the first of three in the Series). Glenn, who was diagnosed with Parkinson's disease (PD) four years ago at age 48, is an impressive athlete. On top of signing up for July's cycling event, he is also competing in the Ohio Senior Olympics in both swimming and track and field, and he aims to qualify for the National Senior Games. Talk about a busy summer.
I recently chatted with Glenn so we could get to know him and learn why he's riding in the Tour de Fox.
Sam: What advice would you give a person who is newly diagnosed and is looking for simple ways to stay fit?
Glenn Leppo: My favorite advice for people with PD is to exercise your butt off in a way you enjoy and to stay socially engaged. I got that advice from [Parkinson's researcher] Michael Salvatore. Group exercise can help with both of these objectives and help improve the quality of life for those of us with PD.
I frequently speak to support groups and ask, "What is the best form of exercise?" People often respond with running, biking, walking or yoga — sometimes with such conviction that they have the answer. My answer is, "the one you will do."  If you want the best quality of life you can have, I personally believe that you need to stay active and that exercise can help delay the impact of the disease.
Sam: Were you always such an active athlete?
Glenn: I swam through high school and my first year in college, but eventually took close to 20 years away from competition. But now, I've been a competitive Masters swimmer for about 15 years. And I also took up yoga at the time of my diagnosis and now teach one class per week. 
In 2013, I started biking because of all the positive links I saw between cycling and the impact on people with PD. The following year, with swimming and biking under my belt, some of my friends convinced me that anybody can run, so I started doing triathlons. My total track experience prior to this spring was through gym class in middle and high school. I have some good coaches, but I have a lot to learn in little time.
Sam: You were a cyclist in last year's Tour de Fox. What are you looking forward to at 2016's event? And as a Northeastern Ohio cyclist, what can we expect from a ride in this area?
Glenn: I had a great time last year. This year I'm looking forward to a wonderful road ride in beautiful weather. I love riding in Northeast Ohio. Although I haven't ridden in the Chagrin River valley all that much, it's similar to my normal Cuyahoga River valley ride.
The preliminary course design goes right by many of my favorite fishing holes as it winds through the Chagrin River Valley. Lush green fields and forests line the entire course. There will be some hills as we drop into and climb out of the valley, so I'm sure the long ride will provide plenty of challenge for the advanced cyclists. I'm sticking with the moderate length ride. Maybe I'll follow my obsession, pack a rod and stop for a quick fishing adventure as we pass over the stream!
Take it from a local and come out to join Glenn and all the other riders at Tour de Fox Great Lakes on July 16. Get some exercise, ride through beautiful scenery, meet incredible people like Glenn, and of course, help push us all closer to a cure for Parkinson's disease.
To learn more about Glenn's competitions this summer, or to support him in his fundraising efforts, visit his Team Fox page. And visit tourdefox.org to register as a cyclist or join the finish-line festival at Tour de Fox Great Lakes on July 16.