Meaningful contribution does not require total commitment. Countless research opportunities exist, many compatible with time constraints and mobility and geographic hurdles. Research is possible only with volunteers. As Michael J. Fox has said, "We can be the solution we seek."
Change the Course of Parkinson's
How each individual comes to research participation is as varied as the disease itself, but the uniting thread is the desire to change the course of Parkinson's and change lives — including one's own. Many participants who once thought of research as frightening, dull or time-consuming have gone on to report that they've found great satisfaction, friendships and fun taking part in studies.
Thinking about volunteering for a clinical study means weighing the potential benefits and risks, just as you would when starting a new medication or considering a surgical procedure to manage your Parkinson's symptoms. As with every decision in life, you want to make sure the pros outnumber the cons.
Thinking about volunteering for a clinical study means weighing the potential benefits and risks.
You may be drawn to a trial of an experimental new drug or to the study of an unexpected treatment paradigm such as dancing to manage balance and gait symptoms; singing or speaking into a phone receiver to measure and manage vocal changes; keyboard tapping and other simple techniques to measure motor aspects of the disease; and treadmill training and other forms of exercise to help assess the safest and most effective forms of exercise for people with Parkinson's.
For a deeper discussion of the issues related to research participation, check out The Michael J. Fox Foundation's Trial Participant Pack. This comprehensive resource includes a user-friendly guidebook and videos full of information and wisdom straight from patients, family members, care partners and researchers.
Types of Clinical Studies
Not all studies test specific treatments or therapeutic interventions for Parkinson's disease (PD). The many different types of clinical studies can be broadly divided into two main categories:
Observational Studies

Observational studies do not test drugs or treatments. Instead, researchers examine participants' health and may monitor volunteers over a certain time period. With observational studies, researchers collect data to advance their understanding of how to track and treat Parkinson's, and how the disease naturally changes with time. Participating in some observational studies could include visiting a clinic for examinations, having blood drawn or undergoing brain scans. 

Interventional Trials

Interventional trials test whether a drug or other type of therapy works and is safe. Experimental therapies could include not only medications, but also exercise, surgical procedures, vitamins, supplements and even complementary therapies such as acupuncture or meditation. Each trial has a different objective and a unique plan, called a protocol, so the level of volunteer commitment for each varies.
Innovations in technology are expanding the possibilities and accelerating the pace of Parkinson's research. People with Parkinson's and researchers alike are benefiting from these new tools.
Online Studies

Online studies make participation possible for many: those who live far away from academic medical centers where much research takes place, who have difficulty traveling, who have not shared their PD diagnosis with others or who simply don't have much spare time. MJFF's online study, Fox Insight, for example, gathers data directly from people with PD about their experience living with the disease.

Smartphones, Apps and Wearable Devices

Smartphones, apps and wearable devices now allow 24/7 objective and nearly effortless monitoring of symptoms, medication effects and activity levels. Researchers are using this technology in stand-alone studies and traditional clinical trials to supplement understanding of potential interventions, adjust medications and monitor disease progression.

Telemedicine

Telemedicine — an umbrella term for any electronic method of real-time interactive communication, such as two-way video — is bringing researchers to patients by enabling investigators to talk to and evaluate study participants in their own homes.
Getting Started
Taking part in research can be empowering and provide access to Parkinson's experts and the latest treatments. But it also can expose you to risk, side effects or discomfort. Your doctor can help you decide which research is right for your individual situation. It also can be helpful to discuss your thoughts on research with your family and care partner.
Your doctor can help you decide which research is right for your individual situation.
Once you are ready, it has never been easier to find relevant clinical studies that interest you. Fox Trial Finder is a user-friendly online tool that matches you to specific studies seeking participants like you for investigations of Parkinson's disease and atypical parkinsonism. Look for trials that interest you, and make contact with the trial team to learn more about the requirements.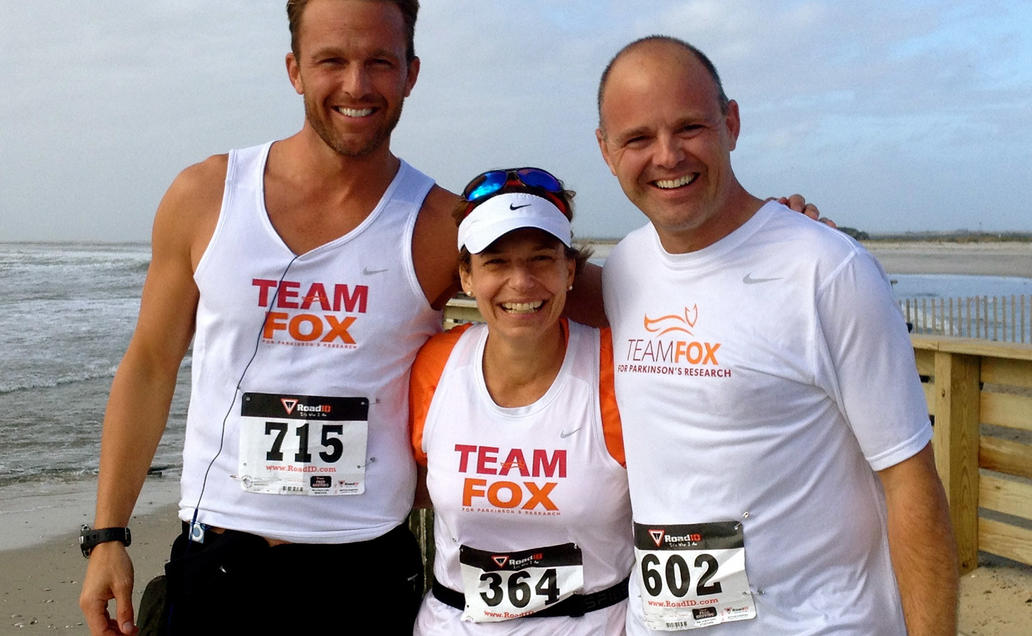 Fundraise for a Cure
Thousands of Team Fox members worldwide are turning their passions and interests into millions in funding for Parkinson's research.
Join an Event
"Even if I think I'm doing this for other people, with every study I benefit, too. I learn something new about the disease, myself, or both."