Join us in Delaware on May 6, 2023, for this free educational event designed for people with Parkinson's and their loved ones. This in-person event features a program with sessions on navigating Parkinson's, managing care and learning about research participation. The accompanying Partner Expo includes information on treatment options and local resources for the Parkinson's community.
Date and Time: Saturday, May 6, 2023, 8 a.m. - 1:15 p.m. ET
Registration and Partner Expo open at 8 a.m.; program begins at 9 a.m.
Venue: Chase Center on the Riverfront (815 Justinson Street, Wilmington, DE 19801)
Please find more details below the program schedule.
Registration and Morning Expo
Registration and Partner Expo are open. Breakfast is available. Coffee, tea, water and snacks will be available throughout the day.
The Michael J. Fox Foundation and event moderator provide an overview of the day's program.
Building Your Parkinson's Care Team
Panelists discuss the importance of seeing a movement disorder specialist and building a care team of other providers.
Partner Expo is open. Snacks, Coffee and Tea Available
Exploring the Latest Parkinson's Research
Researchers discuss progress, challenges and reasons for optimism in search for better treatments and a cure for Parkinson's.
Partner Expo is open. Boxed lunch is available.
Turning Education into Action
Community members share ways to get involved in Parkinson's research and care.
Parking:  Parking is complimentary in the Chase Center on the Riverfront Parking Lot.
Accessibility: All event programming will take place on the main level in the Governors Hall and Wilmington Hall.
Meals: Registered participants will enjoy complimentary breakfast, snacks and boxed lunches. There will also be coffee, tea, water and soft drinks provided throughout the day. We will make every effort to accommodate dietary restrictions. If you have any major concerns, please reach out to us directly at parkinsonsiq@michaeljfox.org.
Cost: Free. There is no cost to attend Parkinson's IQ + You events, thanks to support from our generous sponsors.
More information is available in the FAQs.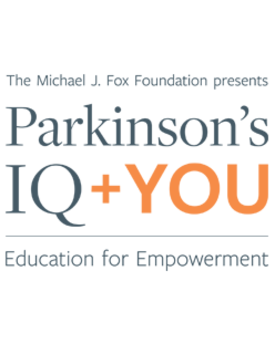 Interested in attending the event?
Parkinson's IQ + You is free, but advance registration is highly recommended. Each registration is good for the admission of one person. If you have a family member or friend coming with you, please make sure they register as well.