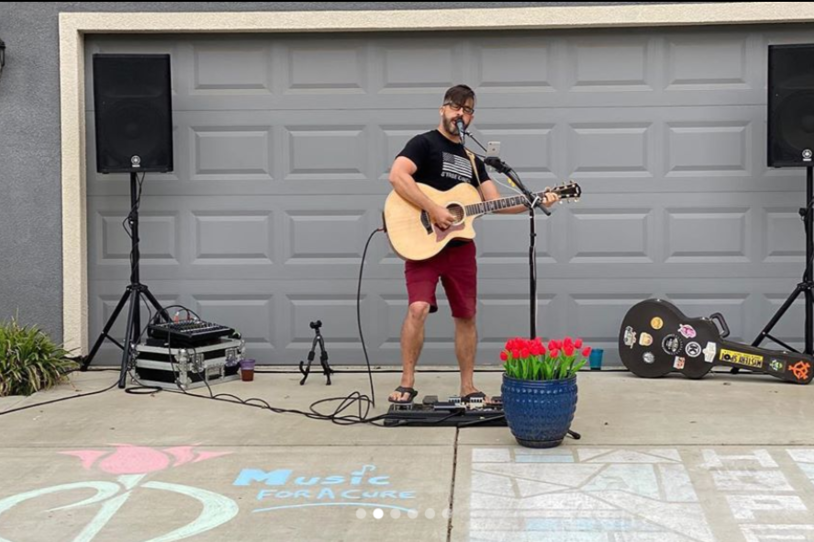 With many in-person events being canceled or postponed, Team Fox members are looking to alternatives for engaging their communities and raising funds to support The Michael J. Fox Foundation. The good news is that with a little bit of creativity — and the help of technology — you can create a unique experience and successful fundraiser while still following social distancing regulations. 
Here's a list of ideas to get your creative juices flowing:
Virtual Concert: 

Are you a musician or have a friend with musical talent? Host a virtual concert and ask people to make a donation in exchange for virtual entry.

Backyard Movie Screening: 

Embrace the summer weather with an outdoor movie night! All you need is a projector, a bed sheet, and outdoor space large enough to allow attendees to social distance. Have everyone bring a blanket and a donation.

Art Walk

: 

Get the whole neighborhood involved! Ask your neighbors to make artwork and sell it at the end of their driveways. Invite your community to come buy artwork with proceeds benefiting Team Fox.

Trivia Night: 

There are lots of online platforms that host virtual trivia nights, or you can create your own. Ask attendees for donations to participate.

Scavenger Hunt: 

Get outside and get moving! Design a scavenger hunt for friends and ask for donations in return. Participants can take selfies with the scavenger hunt items as proof.

Fox Box: 

Do you like to bake? Create a Fox Box full of baked good and send them to subscribers. People can subscribe by making a donation.

DIY Art Projects Kits: 

Get crafty! Assemble a craft or art kit with directions and ask people to donate in exchange for the kit. Have friends with kids? Consider making a kid-friendly kit.

Cocktail Crafting or Wine Tasting Class: 

Do you have a special drink or knowledge about wines? Host an online class and teach others your special skill. Ask people for donations to access the virtual class.

Podcast or a Ted Talk: 

Are you passionate about a certain topic? Share your insights via a podcast or Ted-style talk online.

Mini Olympics/Field Day: 

Take advantage of the summer weather and the great outdoors and host a mini Olympics or field day.

Competitive Brackets: Create a blank bracket for a live event like a TV competition (any Bachelor fans?!) or sports tournament. Ask for a donation per bracket and offer a prize for the winner.
Travel Itinerary: 

Have you taken a trip recently or know a great vacation destination well? Think about creating custom travel itinerary in exchange for a donation
Create an account or renew your Team Fox membership today and get started!
Explore virtual Team Fox fundraisers you can join from anywhere.