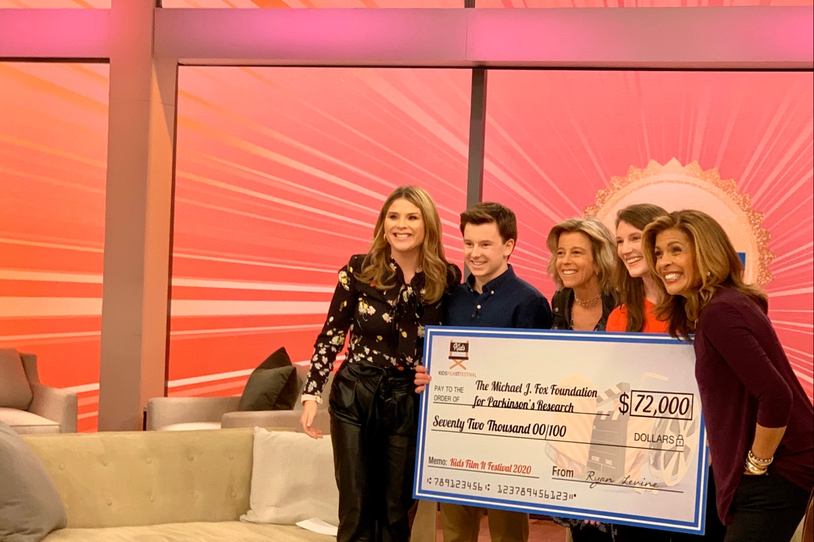 At age 12, Ryan Levine created the Kids Film It Festival, an international movie competition for kids that helps raise awareness and funds for The Michael J. Fox Foundation (MJFF). Since then, Ryan's story has caught the attention and admiration of many, including NBC's TODAY show. This morning, 16-year-old Ryan and his mother Lisa joined NBC's TODAY show to share the inspiration behind the festival and present the Foundation with a check for $72,000.
As a movie lover — with an affinity for Back to the Future — and rising filmmaker, Ryan recognized the need for a venue in which kids could showcase their creations. For his bar mitzvah he chose to create that outlet for youth moviemakers, while also raising funds for Parkinson's research in honor of his grandmother who lives with the disease. To date, the Kids Film It Festival has raised over $215,000.
Ryan tells NBC's TODAY show about the event's evolution:
"The festival has really grown more than I could have ever imagined. When we started off it was just a passion project. I wanted to help kids share their passion for filmmaking while also helping a great cause. And it really took off. Everyone was so happy to help, and people just joined in."
During the segment, Liz Diemer, director of Team Fox (MJFF's grassroots fundraising program), shares how Ryan is making an impact within the MJFF community and beyond:
"I could tell from the beginning that what he wanted to build was something really special. He's involved kids and communities not just in Cleveland, Ohio but all around the world to understand the value of getting involved in philanthropy and to use their passions to make a difference.
NBC's TODAY show hosts Hoda Kotb and Jenna Bush Hager commend Ryan for his commitment to paving a path for young filmmakers and for his dedication to a meaningful cause. The hosts surprise Ryan by inducting him into the show's "Kids in the Spotlight Wall of Fame" before inviting Liz on stage to receive the hard-earned proceeds from this year's Kids Film it Festival.
View the full TODAY show interview.
Read about other Team Fox members turning their talents into progress toward a cure.