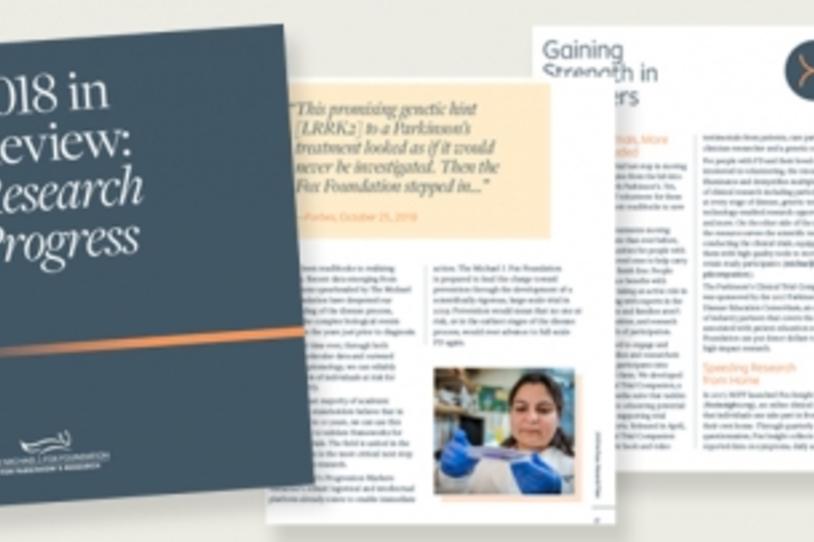 At The Michael J. Fox Foundation (MJFF), we're reaching new milestones every year and looking ahead to advancing the most promising research toward one goal: finding a cure for Parkinson's disease (PD).
As 2018 ends, we reflect on how much momentum we have built to fulfilling this goal. Read our "2018 in Review: Research Progress" as we detail a year of transformation in the drug development pipeline and the many approaches we take to speed a cure. And on the flip side, we published "2019 in Focus: Research Plans" to share our plans to meet emerging challenges and opportunity with strategic risk-taking and efficient problem solving.
You will also learn how the evolving role of technology and collaboration with scientists, drug makers and academics are converging to elevate the voices of those who matter most: patients.
A few highlights:
The U.S. Food and Drug Administration is reviewing two experimental drugs to treat "off" times in Parkinson's. If approved they would be the first treatments directly funded by MJFF to come to market.
Seven therapies targeting alpha-synuclein, the sticky protein that clumps in the brain in Parkinson's, are in clinical trials to see if they could slow or stop disease progression. Testing of drugs targeting LRRK2 and GBA mutations are also moving forward in clinical trials.
MJFF's game-changing Parkinson's Progression Markers Initiative (PPMI) is a cornerstone for new collaborations including the $24 million Accelerating Medicines Partnership: Parkinson's Disease, which will use PPMI samples to develop biomarkers for PD.
More than 28,000 people are registered for Fox Insight, MJFF's online clinical study gathering data directly from patients about the lived experience of Parkinson's.
More than 18,000 advocates contacted their lawmakers more than 52,000 times on various policy issues affecting the PD community.
MJFF's signature Fox Trot series hosted events across the U.S., with 2,500 runners and fundraisers speeding toward the finish line... and a cure.
Discoveries are crystallizing at a rapid pace, and Parkinson's patients, volunteers and families are rallying worldwide to shape the future of PD research. Together, we'll build on the research momentum of today so that tomorrow, we are closer to the next breakthrough for Parkinson's disease.
Hungry for more? Download our 2018 in Review/2019 in Focus booklet, visit michaeljfox.org/2018inreview and michaeljfox.org/2019infocus for in-depth information on these projects, and follow MJFF on Facebook, Twitter and Instagram.