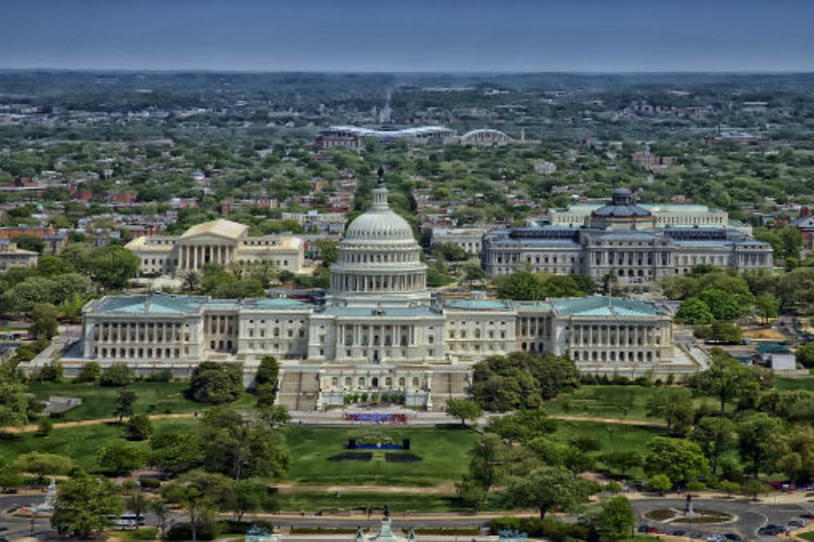 Last week, more than 150 Parkinson's disease (PD) advocates convened in Washington, D.C. for the 2019 Parkinson's Policy Forum. The Policy Forum brings people with PD and their loved ones to our nation's capital for a day of education and training followed by a day of advocacy with lawmakers on Capitol Hill.  
This year's Forum was co-sponsored by The Michael J. Fox Foundation (MJFF) and the Parkinson's Foundation. Ten other PD and related organizations also contributed time and resources to help make the event possible. 
"When Parkinson's groups come together to advocate for change, we amplify our message and have a greater chance of influencing public policy," says John Lehr, CEO of the Parkinson's Foundation. "This collaborative approach is key, and we look forward to working together in this way all year round." 
The event began with a day of educational panel discussions where advocates learned about current policy issues affecting people with Parkinson's, their families and care partners. Attendees also received training on how to build relationships with lawmakers and be an effective advocate. Thousands of advocates and Parkinson's community members across the country watched some of the educational sessions, which were streamed live and are now available on Facebook. 
Former Pennsylvania Governor Ed Rendell, who is currently living with Parkinson's, opened the Forum by delivering a keynote speech on the morning of Monday, September 9.  And, Parkinson's program director Beth-Anne Sieber from the National Institutes of Health (NIH) spoke to attendees at lunchtime.  
The dinner and awards ceremony began with a video message from Michael J. Fox and Foundation co-founder and executive vice chairman Deborah Brooks.  
On the second day of the Policy Forum, advocates headed to Capitol Hill for congressional meetings. Attendees spent the day meeting with senators, representatives and their staff to educate and advocate around three issues: 
"Advocacy is not a quick thing," said Jerry Boster, an advocate from Hawaii who attended the Forum. "Some pieces of legislation take seven or eight years to pass, so you have to be in it for the long haul," he added. "I was diagnosed with Parkinson's at age 47 and to be able to do advocacy and be part of the Policy Forum is important to me as much as advocating from home the rest of the year." 
At the same time Forum attendees were advocating on Capitol Hill, thousands of people across the country joined these efforts by participating in Parkinson's Advocacy Day. Community members sent emails to their lawmakers on this day of action, emphasizing the importance of robust federal research funding. 
"While advocates were in face-to-face meetings, they marveled at hearing the phones ring off the hook from their fellow advocates back home calling in to ask for support of our issues," says Ted Thompson, JD, senior vice president of public policy at MJFF. "Our voices are getting through, and Congress is taking note of our needs and priorities. In this tough political climate, disease research is one issue that Republicans and Democrats agree is important, so it's important to keep our voices strong on these issues." 
The Advocates Deliver Results! 
In the time since our advocates were on Capitol Hill, seven representatives and one senator joined as co-sponsors to the mental health legislation we are advocating for — The Mental Health Access Improvement Act of 2019 (S. 286/H.R. 945). They are: Senator Lisa Murkowski (R-AK), Rep. Doris Matsui (D-CA), Rep. Adam Schiff (D-CA), Rep. Brian Higgins (D-NY), Rep. Nydia Velazquez (D-NY), Rep. Cathy McMorris Rodgers (R-WA), Rep. Chris Pappas (D-NH) and Rep. Karen Bass (D-CA). 
Take Action from Home 
You don't have to come to the Forum to have your voice be heard. You can advocate from home. Here are the three policy priorities you can send an email to your member of Congress about. Each one takes less than a minute, and your members of Congress need to hear from you: 
Tennessee advocates with Senator Marsha Blackburn (R-TN).

Alaska advocate Kerry Howard with Senator Lisa Murkowski (R-AK).

Maine advocates with Senator Angus King (I-ME).

Montana advocate Patty Andersen with Senator Tester (D-MT).