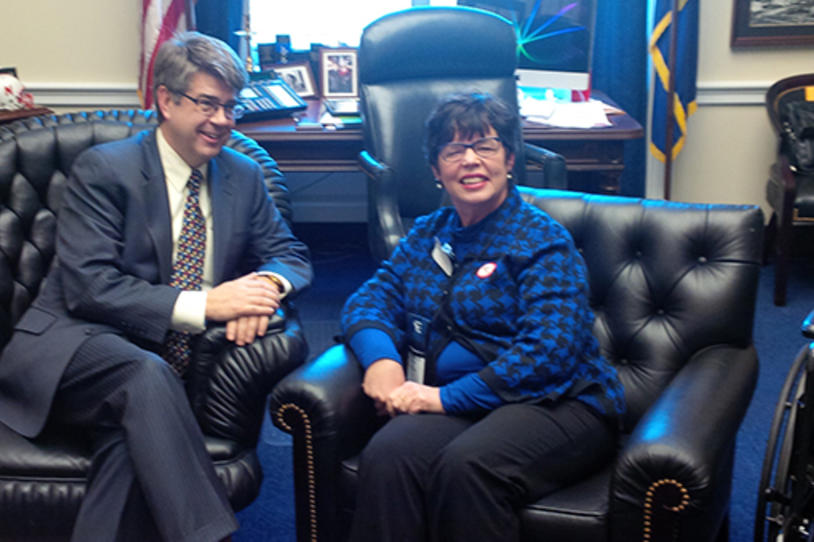 Editor's Note: For more Foundation news, research updates and tips on living well with Parkinson's, read the Fall/Winter 2016 edition of The Fox Focus, our biannual newsletter. 
Monnie Lindsay, JD, is an Omaha-based lawyer at Georgetown University Law Center with a specialty in insurance and health law who has lived with Parkinson's for more than two decades. A member of the newly formed MJFF Public Policy Council -- which comprises experts who have extensive government experience and advise the Foundation on policy matters -- Monnie talks about the past, present and future of her policy work with the Parkinson's disease (PD) community.
How did you get involved with PD policy work? Was it influenced by your professional and personal experiences?
After being diagnosed with Parkinson's at age 38, just four years out of law school, I developed a passion for supporting our community. My education and experience gave me an understanding of the legislative and regulatory processes and opportunity to develop persuasiveness and critical thinking. I learned that a small tweak to legislation or regulation can have a huge impact. And my work on Capitol Hill prior to law school in the House Finance Office gave me insight into how legislators think.
What are your goals as a member of the MJFF Public Policy Council?
I aim to do whatever is in my power to eradicate PD or, at least, ease its weight, particularly increasing access to care and making new therapies more affordable. I worked with talented grassroots members of the Parkinson's Action Network for over a decade before it unified with MJFF in June 2016. I hope that now, with MJFF name recognition, along with the Foundation's resourceful staff, we will open doors that were previously closed.
How do you address advocacy efforts and issues on the local scale?
I serve on the committee overseeing the Nebraska Parkinson's Disease Registry, a mandated registry of demographic information of people diagnosed with PD in the past 19 years. It's a treasure trove of data that has revealed a high prevalence of PD in some rural communities. We can use this information to advocate for government policies that expand the use of telemedicine, which allows doctors to conduct remote visits using technology like web cameras to reach patients who live far away or are unable to travel.
Which of your many efforts and accomplishments are you most proud of?
Persuading that senator or representative to say "yes" is a real high. Becoming an advocate helps to raise your voice and snatch your power back from this disease, which so wants to rob it.
What advice would you give to someone who wants to make a difference in the PD community?
Come join us -- MJFF provides tools (available at michaeljfox.org/congress) to learn about policy issues affecting the PD community and to make your voice heard with elected officials.
Learn more about ways to make your voice heard in Parkinson's public policy.
Read more profiles like this one in the Fall/Winter 2016 edition of The Fox Focus, the Foundation's biannual newsletter.
Anna Boyum, PhD, is a biomedical scientist by training and writes extensively on neuroscience.