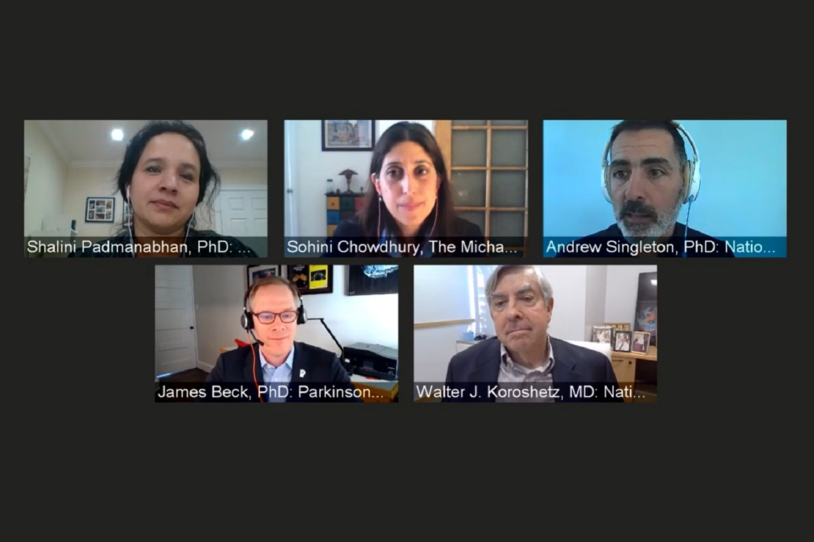 Last week, more than 350 Parkinson's disease (PD) advocates representing all 50 states joined The Michael J. Fox Foundation (MJFF) for our first-ever virtual Parkinson's Policy Forum. Typically hosted in Washington, D.C., the Policy Forum gathers people with PD, their loved ones and researchers for advocacy education and training followed by a day of meetings with lawmakers on Capitol Hill. 
"This event brings the Parkinson's community together as a united voice to educate elected officials about supporting the community and increasing the federal investment in research," said MJFF Deputy CEO Sohini Chowdhury in her opening remarks. "Policy advocacy is about bringing your story directly to elected officials. Your voice is powerful."
The event kicked off with a video message from Michael J. Fox welcoming attendees to the Forum.
Presenting partner Parkinson's Foundation and 10 community sponsors helped make the Parkinson's Policy Forum possible. From March 22 to March 24, advocates tuned in for educational sessions on how to tell your Parkinson's story, what to expect in a virtual meeting with lawmakers and a specific and timely policy priority, increasing funding for the Parkinson's Research Program (PRP) at the Department of Defense.
During programming on the first day, leaders in the Parkinson's field offered a research update. They talked about Parkinson's biology, genetics, therapies, the environment's role and why and how federal funding is critical to advancing progress.
"There's still so much we don't know about Parkinson's, and we have to build this fundamental knowledge," said Walter J. Koroshetz, MD, director at the National Institute of Neurological Disorders and Stroke. "But in the meantime, if there is something with promise for people with Parkinson's or people who are at risk, we want to take those shots on goal and see if we can benefit people today."
On March 25, 221 advocates from 44 states attended 226 virtual meetings with lawmakers. Select advocates — from key congressional districts of legislators who oversee our specific policy asks — conducted video meetings with senators, representatives and their staff to educate and advocate on the need to increase funding for the Parkinson's Research Program at the Department of Defense. At its peak, the PRP received $27 million in funding. But, in recent years, this has decreased and has been constant at $16 million for the last eight years, representing an inflation-adjusted decline of over 50 percent. As members of Congress are making decisions about the new fiscal year, we are asking them to support the Parkinson's Research Program with a $25 million investment, which could help seed breakthroughs.
"Storytelling is everything," said Samantha Felder, a third-year Forum attendee and policy advocate with PD who met with her legislators in Wisconsin. "It helps show Congress what our life is like on a daily basis."
While advocates were in virtual meetings with legislators, more than 2,000 people across the country joined these efforts by participating in our Parkinson's day of advocacy. Community members sent emails and shared social media posts with their lawmakers emphasizing the importance of robust federal research funding. 
And it's not too late to use your voice! You can help amplify our message from wherever you are. With just a few clicks, you can send an email and ask Congress to increase federal investment in Parkinson's research.
The Forum would not be possible without generous support from presenting partner, Parkinson's Foundation, and our 10 community sponsors: