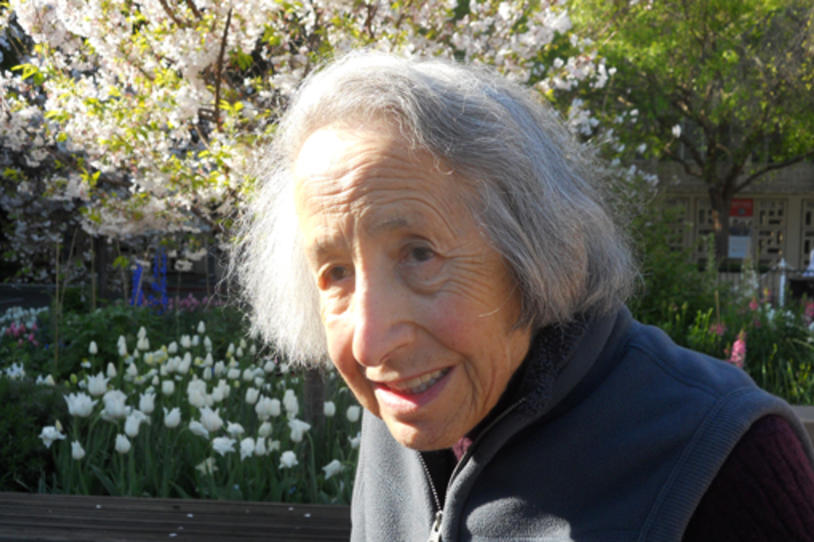 Fifteen years ago, when Marie Beck was diagnosed with Parkinson's disease, she had heard that a cure could be as few as five or so years away. Of course, today researchers are continuing to work toward that goal. And three months ago, Marie and her son, Thomas, decided it was time to join in and take action.
"I decided since I can't do much else, maybe I can help the future of Parkinson's patients," Marie said. Thomas had heard that The Michael J. Fox Foundation was hosting a Clinical Trial Fair in San Francisco and signed up to attend. The fair brought him together with many other Parkinson's community members for a day of learning about the many local opportunities to participate in Parkinson's Disease (PD) research.
Less than three months later, Marie is finishing up her third trial that she learned about through the fair. "I encouraged, some might even say pushed, a bit," Thomas admitted recently as the pair sat in a garden in front of the Stanford Clinic during a break in a trial. "We're still in the same place with the same drugs. She can't really do much else but spend an hour here and there at site visits for various clinical trials."
So far, Marie has done cognitive and smell tests, MRIs, lumbar punctures and blood tests. Coming up, she's even going to get in a machine used by astronauts to test her balance. At 83 years old, Marie is still very aware and alert, Thomas said, which makes her a puzzle for researchers. Marie has learned her memory isn't as bad as she thought as she took tests that asked her to remember words.
At the Clinical Trial Fair, Thomas said he learned that 20 to 30 trials are currently going on in the San Francisco Bay Area. There's so much going on, it's hard not to get involved, he said. Everyone's Parkinson's is different, Marie said. "You have to help however you can. If we can find out what the heck causes Parkinson's, [finding a cure] would be easier. I know it won't help me anymore, but we have to think about the generation that comes after," she said.
Thomas drives his mother to appointments and trial visits. He and his sister are also interested in participating in trials that want children of Parkinson's patients. Marie said she might take a little break after completing participation in this third trial. However, because she's registered on Fox Trial Finder, MJFF's online clinical trials matching tool, she knows she'll find out about any new trials in her area that need her.
By registering for Fox Trial Finder, you can find out about the PD clinical trials in your area that are in need of volunteers like you. Lack of volunteers is the top reason why clinical trials across the board don't make it to the finish line, and registering for Fox Trial Finder is a big step toward being part of the answer. Join Marie and 29,000 others by signing up today at www.foxtrialfinder.org.
---
Kate Harmon is a guest blogger for FoxFeed and profiles members of the PD community who have participated in clinical trials when she's not working as a newspaper editor. Her father has Parkinson's and her entire family is involved in the fight. Check out their family blog for more of these PD warriors, www.pcrfinc.com.