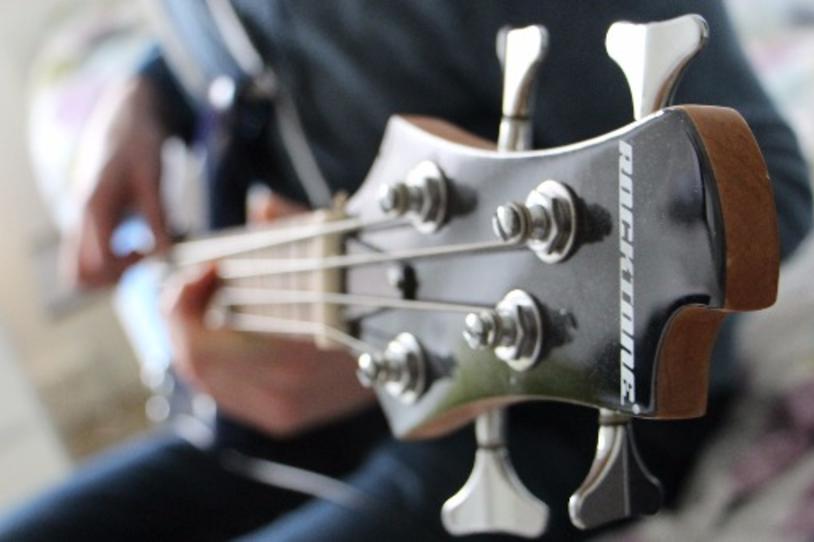 Music is a powerful tool that can ease many symptoms of Parkinson's disease, such as walking, speech and mood changes.
Music moves us, emotionally and physically. And it can be a powerful tool to ease many symptoms of Parkinson's. To learn more about music, the brain and Parkinson's, we spoke with Kerry Devlin, MMT, LPMT, MT-BC, senior music therapist at Johns Hopkins Center for Music and Medicine in Baltimore, Maryland.  
The Michael J. Fox Foundation (MJFF): Let's start broadly. How does music affect our brains?
Kerry Devlin (KD): This is something that is still being researched. But we know that music stimulates many brain areas and processes — our thinking, memory, feeling, moving and other processes. And it does this whether the brain has disease or not. When there is disease, music can bypass faulty pathways to lessen symptoms.
The brain synchronizes to music. This is called entrainment. An example is when you start tapping your foot and only then hear a song playing. Your brain was aware of the music and started moving your body without you realizing it.
MJFF: How can music help people with Parkinson's? 
KD: Music can impact many Parkinson's symptoms. The three areas that are best researched include motor, speech and voice, and psychosocial (thought and behavior) symptoms.
Many people with Parkinson's have walking problems. These might be difficulty starting, suddenly stopping or freezing, or festination. These symptoms can be frustrating, unsafe and lead to falls. To help, we can use specific types of music, called rhythmic auditory stimulation. This involves using a metronome or live music to help a person move faster or slower, overcome freezing, or change gait patterns.
A lot of people also experience speech and voice symptoms. Singing is a way to improve loudness and clarity as well as quality of life, helping people better communicate with care partners and loved ones. Singing in a group also is a social experience, a means of connecting with others who share your experience.
Mood changes are common in Parkinson's, too. Music therapy can create a space where you can process the impact of a Parkinson's diagnosis on your life or ease anxiety. It also can be a way to connect with loved ones or leave a legacy. You can write a song for your spouse or children, tell your life story through songs, or dedicate songs to important people in your life.
MJFF: What, exactly, is music therapy? 
KD: It's using music as a therapeutic tool to meet your personal clinical goals. Music therapists are members of the multidisciplinary care team, and work in partnership with you and your other providers to support the needs that are most important to you. It's collaborative, creative, and evidence-based.
Like physical, occupational or talk therapists, music therapists are certified and credentialed. They are highly trained musicians who can help you use music to manage symptoms.
MJFF: What's a typical music therapy visit like?
KD: Music therapy can take different shapes and forms, depending on what you want to work on and your therapist's approach. In your first meeting, the therapist will learn what brought you to music therapy and what your goals are. They may review your medical chart or, with your consent, talk with other members of your health care team. They'll share what they can offer and potential directions you can take, together, to reach your goals. Activities might include moving to music, singing a favorite song and talking about lyrics, or relaxing to music to ease anxiety. What you do might change as you meet or modify goals.
Music therapists are a unique part of your health care team. They'll work with your doctor, physical or speech therapist, and other team members to provide the best care possible for your symptoms. This might mean you work one-on-one with a music therapist or that your music therapist helps enhance your physical or speech therapy. I might, for example, play music loudly to cue a person to sing more loudly or have them hold a note longer to work on breath control. Or I might help tailor music to meet physical therapy goals.
MJFF: Who can benefit from music therapy?
KD: Anyone who likes music! And that's most of us because we all connect with music in one way or another. You don't need any musical ability or experience. Music therapy can be meaningful to anyone at any point in their journey with Parkinson's.
MJFF: How can you find a music therapist? What should you look for?
KD: Search online for someone near you. The American Music Therapy Association keeps a database. You can check a therapist's credentials (MT-BC) through the Certification Board for Music Therapists. Make sure their experience and expertise match your goals. And, as with all health care providers, make sure they're a good fit for you.  
Unfortunately, music therapy isn't yet covered by insurance. But we're advocating for this! Cost will vary but your therapist can help you build a program that works for your financial situation.
MJFF: If music therapy isn't available, can you still use music to treat Parkinson's?
KD: Yes! My prescription for everyone is to sing along (loudly) to one song each day. It can be any song anywhere. This is especially good before a social function where you expect to talk a lot or in busy spaces. Sing loudly in the car on the way there to get your voice going. Singing, either in your head or out loud, also can be a way to start or regulate walking in Parkinson's.
Music can boost motivation and magnify the effects of exercise, too. A music therapist can help you find music of different tempos to match different exercises.
And you can use music to manage emotions. Make playlists that help you feel calm or energized. Or use music to ground yourself and be mindful. In the hustle and bustle of managing medical care, going to appointments and more, we can forget to stop and focus on ourselves. Turn on a song that feels relaxing, close your eyes if that's comfortable, and focus on your breath for a minute or less. Then check in with yourself and how you feel.
If you want a more structured experience, look for community programs (many of which are free or lower cost), like in-person or online singing groups, or dance or other music classes. Examples include the Parkinsonics choir and a drumming class, both of which meet via Zoom. Learn more at hopkinsmedicine.org/center-for-music-and-medicine/music-as-medicine.html.
MJFF: What research is happening in this area?  
KD: There are many ongoing avenues of research in music. We know that music works for Parkinson's and other medical conditions, but we're working to understand exactly why it works. Using brain imaging and other tools can help us learn exactly what's happening when the brain hears music so that we can refine and personalize music tools, learn the best "dosing," and secure funding to make it more accessible to more people.
MJFF: Anything else we should know about music or music therapy?
KD:  In my work as a music therapist, I've been so honored to bear witness to folks connecting with music in new ways, like building community with others in group settings, processing their experiences, learning new strategies to manage anxiety, and making meaning out of their diagnoses. I think this really demonstrates how music therapy can be a relational, dynamic experience that might feel different from other kinds of health care encounters — in a really special way!