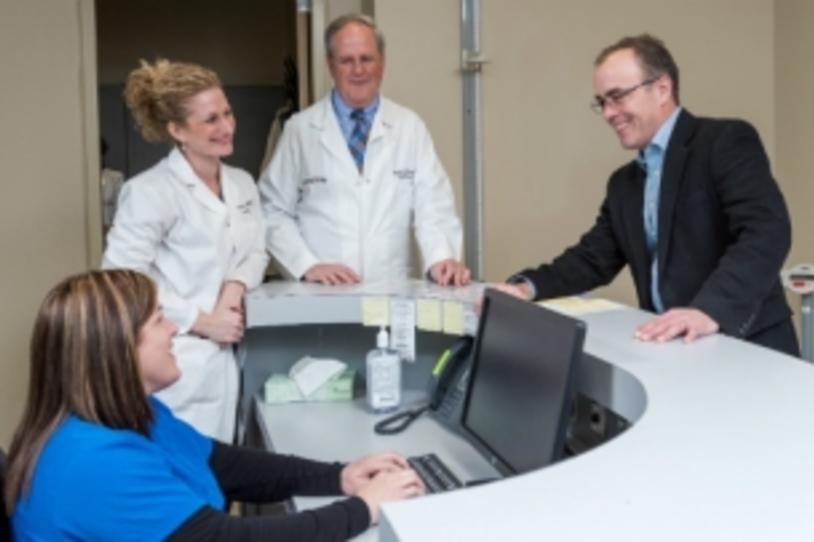 Occupational therapists can be an important part of the Parkinson's care team. I spoke with Daniece Lahoud, MS, OTR/L, a senior occupational therapist at NYU Langone Health Rusk Rehabilitation, to learn more about occupational therapy and how it can help people with Parkinson's.
Rachel Dolhun (RD): What is occupational therapy?
Daniece Lahoud (DL): Occupational therapy is a treatment that helps people perform their everyday activities safely and, as much as possible, independently. When diseases such as Parkinson's affect self-care (such as dressing or bathing), work (typing, for example) or leisure activities (such as going to church or out to eat), occupational therapists look at how a task is impacted and how we can help compensate or correct to make the task easier to perform. 
RD: How can occupational therapy help in Parkinson's?
DL: Occupational therapy can help people at all stages of Parkinson's — from right after diagnosis through later years of disease — with any daily task that is difficult to perform. Parkinson's tremor, stiffness and slowness typically affect the hands, which means many regular daily activities can be more challenging. Common examples include buttoning a shirt, putting on socks, lacing shoes, putting a debit card in the ATM, texting, writing, typing, putting on makeup and jewelry, drinking coffee and using the restroom. In middle or later years with Parkinson's, dyskinesia (involuntary movements) can make these same tasks difficult too.
RD: When should you see an occupational therapist?
DL: It's not a bad idea to see an occupational therapist (OT) soon after a Parkinson's diagnosis. You can see what occupational therapy offers and get a thorough assessment. OTs look at not only your upper body structure and movement, but also cognition, vision and other functions that can impact movement. Even if you don't need an OT right away, you will learn what's available and how you can use OT to your advantage in the future.
Many people come to an OT when they see changes in their hands — it's harder to button, zip or write, for example. But if any regular task becomes challenging, consider seeing an OT. You may have trouble getting your money out to pay a cashier, bending down to put your socks on or dining out at a restaurant. OT is here to help you do the things you want and need to do more efficiently and effectively.
RD: What, exactly, does an occupational therapist do?
DL: We're basically movement problem solvers. We analyze how a person performs a task that's giving them trouble, figure out how and why it's challenging, and provide solutions to make the task easier and safer to perform. Solutions are personalized because they depend on the task and the person's symptoms. They could include exercises to improve hand-eye coordination or grip strength if poor coordination or strength are to blame, or varied strategies (such as different positions to complete the task) or assistive tools. We often work on completing the difficult task together, and we prescribe exercises for our patients to do at home. While much of what we do focuses on the hands, arms and upper body, we take a holistic approach to the entire person so they can resume or enhance their daily activities.
RD: How does occupational therapy differ from physical therapy?
DL: Occupational therapists focus on improving specific tasks and daily functions whereas physical therapists concentrate on overall movement. OTs look at every movement and problem through the lens of function — how it affects your daily life and tasks. If you have balance problems, for example, a physical therapist might help you work on overall balance while standing still and moving. OT would work on balance in specific activities, such as reaching down to put your socks on.
If you have symptoms that lead you to an OT, you might also want to see a PT. We typically work together as part of a "multidisciplinary" team — one that includes your doctor and, if you have speech changes, a speech therapist, too. Each of us takes a different approach and treatment plan to many of the same symptoms and this paired work can help you get the most out of your Parkinson's care.
RD: How do you find an occupational therapist?
DL: Ask your doctor for a referral. Your movement disorder specialist, especially if he or she is located within or near a large academic medical center, will know of many reputable OTs (and PTs). You also can ask your fellow Parkinson's patients for the names of occupational therapists they've worked with and you can search online for one in your area. Lee Silverman Voice Therapy (LSVT) Global maintains a database of LSVT BIG- (a Parkinson's-specific program) certified occupational therapists.
You'll want to see an OT that has a background in treating people with Parkinson's (such as someone who is LSVT BIG-certified) or who treats adult neurological patients. If there is no occupational therapy program in your area, talk to your doctor about alternative options and see whether telehealth is a possibility.
You do need a prescription from your physician, so if you find an OT online contact your doctor's office for a referral. Insurance (both private and Medicare) does typically cover OT.
RD: What else should people know about occupational therapy?
DL: Occupational therapists offer many specialty services that can be helpful to people with Parkinson's, especially as disease progresses. One example is home safety visits, in which we look at what home modifications and adaptations can optimize safety. This can be beneficial when a person has walking and balance problems and falls. We might suggest modifications like stair lifts or ramps, or adaptations like shower grab bars. A specialized OT, who works in "home accessibility" has additional expertise in building codes and design and can even draw up plans for your architect, contractor or handyman.
OT also offers driving rehabilitation, which typically includes on-road or simulated evaluations to see if a person is safe to drive or needs vehicle modifications, as well as seating and mobility assessments to get the right type and fit of wheelchair if one becomes necessary (because of frequent falls, freezing or other problems). Occupational therapists also can recommend assistive technology (such as voice amplifiers, voice to text or even devices such as Alexa or Google Home) to enhance and improve daily activities.