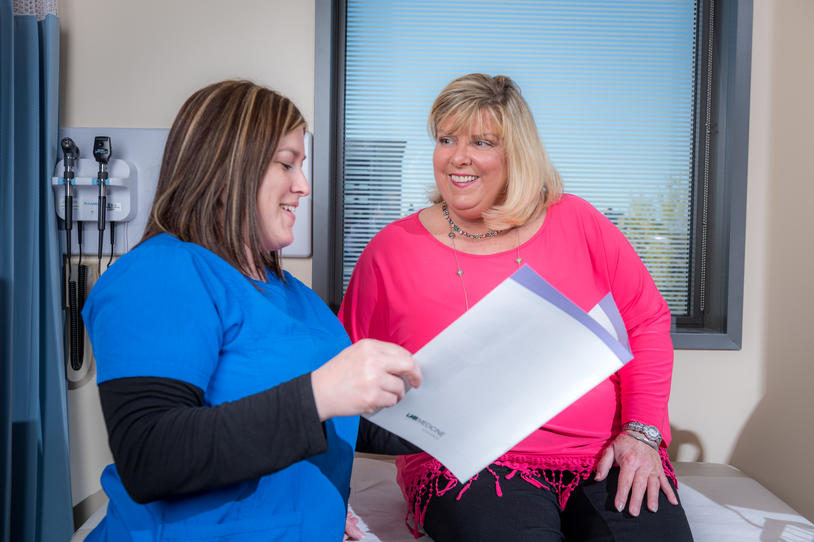 Speech therapists, also called speech language pathologists, can help with communication and swallowing problems in Parkinson's. We spoke with Jessica Huber, PhD, certified speech and language pathologist, and professor of speech, language and hearing sciences at Purdue University to learn more about the role of a speech therapist on the Parkinson's care team.
The Michael J. Fox Foundation (MJFF): What is a speech therapist?
Jessica Huber (JH): A speech therapist is someone who works with people of all ages in the areas of communication, swallowing, feeding, cognition and language function. Speech therapy is an umbrella term that covers therapy that works on all those areas.
MJFF: How can speech therapy help in Parkinson's?
JH: Speech therapy can help three major things in people with Parkinson's:
Speech and communication. There are several programs, including Lee Silverman Vocal Training, or LSVT LOUD, and Parkinson Voice Project SPEAKOUT!, which use vocal exercises or group therapy to improve speech. There also is a device, called SpeechVive, which I invented. No one program works for everyone. If you try one program and it doesn't work, it doesn't mean another one won't work or that you failed. It just means we need to try something else! There are other programs and other techniques we can use, such as working on articulation, rate, fluency and breathing. You have to keep trying.

Swallowing. This is a really important area for Parkinson's. There aren't really programs like there are for speech, but there are things we can do, such as strengthen muscles and teach compensatory strategies. Sometimes people are hesitant to talk about swallowing problems because they worry we will restrict diet or food. But there are a lot of other things we can do, and the earlier we get started, the more options we have.

Cognitive change. There are lots of tools available for cognitive change or dementia. Some are aids or practices to improve attention or memory. We can help people work on remembering everyday tasks, like when to take medication or the date and time of a doctor's appointment, by writing it down, keeping a calendar or checklists, or setting up electronic reminders in their phone -– whatever works for them.
MJFF: When should you see a speech therapist?
JH: At diagnosis! This can help you get a baseline and see where you are. You may not be aware you have problems with communication or swallowing, and these can lead to frustration in personal relationships or demoralization. Without even realizing it, these can become your "new normal" and lead to a slow withdrawal. When we see people earlier, there is so much we can do. But at any point, no matter what the situation, we can support or repair communication or swallowing breakdown with techniques and even technology solutions.
MJFF: How do you find a speech therapist?
JH: Start by talking to your movement disorder specialist, because often they will know a speech therapist in your area who has experience and good outcomes working with people with Parkinson's. If you don't have a movement disorder specialist or don't see one regularly, ask your neurologist or primary care physician. You also can check the websites of the American Speech-Language-Hearing Association, LSVT LOUD, Parkinson Voice Project SPEAKOUT! or SpeechVive, for a list of certified speech language pathologists in your area.
MJFF: How do you choose the right speech therapist for you? What do you look for?
JH: Talk to them -- ask what their experience is with people who have Parkinson's. Just as you would with a doctor, make sure they are the right fit. Therapy is personal; you have to have a bond. You need someone who can motivate you and talk to you in a way that works for you. You also want someone who is patient-centered, meaning the patient sets the goals and drives the therapy process for what is most important to them. Make sure the therapist has a broad toolkit and uses that toolkit liberally, meaning they don't just focus on one program -- for example, they can do speech and swallowing exercises; they use different techniques and they tailor therapy to your goals and your needs. You want a therapist to see you as a whole person and figure out what success looks like for you.
You also want to make sure your therapist is certified through the American Speech-Language-Hearing Association (AHSA), which requires a certain level of education and clinical experience, or that they are working toward that certification. And you want someone who is licensed in your state. Ideally, you want someone who works with people who have Parkinson's or other brain diseases, such as stroke or head injury.
MJFF: How do you get the most out of speech therapy?
JH: Be committed and remember your ultimate goal. Do the homework that's prescribed outside of therapy sessions. Be open to the process and trust your therapist, especially if certain exercises don't seem to relate to your end goal. Caregiver support is essential for monitoring and practicing exercises.
MJFF: Why is it important for a speech therapist to be part of the Parkinson's care team?
JH: The ability to communicate and have social relationships is a major factor in physical and mental health. People who have close social relationships seem to have longer, fuller lives. And it's a critical factor in care – in your ability to tell your doctor what you need. When someone else is speaking for you, part of the message can be lost. We want people to be independent in communicating and safe in swallowing. Aspiration (swallowing down the wrong tube) and pneumonia can be major problems for people with Parkinson's. Speech therapists also love working with other care team members: physical and occupational therapists, nutritionists, psychologists and others. We're a great bridge.
MJFF: How do you make sure your care team members communicate?
JH: It can be really hard. A lot of times this falls to the patients themselves. I tell people to ask their care team members if they are talking to each other and to get printed copies of their providers' reports and keep them in a binder that they take to every appointment.
Speech therapists can be an important part of a Parkinson's care team. You can learn about building a comprehensive care team and other ways to manage Parkinson's at our free event series, Parkinson's IQ + You.