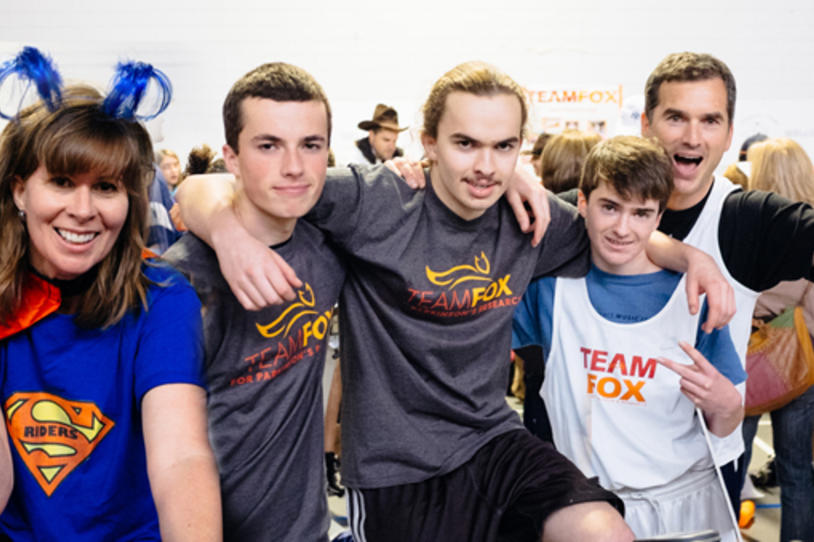 Laurine Fillo, a Calgary-based photographer, wife and mother of three, was diagnosed with young-onset Parkinson's at 38 in 2003. A classic early adopter, Laurine was one of the first in line to turn to technology as a means of monitoring her health. Each morning she puts on her FitBit wearable sensor that tracks her steps, calories burned and sleep. So it's no wonder that she gravitated to Fox Trial Finder, MJFF's online clinical trials matching tool, and dove headfirst into trials that are using technology to accelerate new discoveries.
"I thought, 'I should look into this and see what it's about.' Turns out it was really easy to find trials that needed volunteers like me."
Laurine has participated in several studies leveraging technology to help researchers better diagnose and treat PD, including a study using wearable computing to gather information about certain Parkinson's symptoms.
Earlier this year, Fox Trial Finder notified Laurine of a Web-based study she could participate in from home. "It just landed in my inbox. All I had to do was click on a link." Participants are asked to complete surveys to help researchers assess complementary and alternative approaches to PD, such as taking supplements or practicing yoga.
The study appealed to the self-described "tech-geek" for two reasons. "First, I'm very much of the mindset to try new things, including complementary approaches, to help manage my symptoms. Yoga, cardio exercise and dance help me feel better, and so do acupuncture and regular massages. Second, I appreciate how computing now gives me the power to contribute to research. Participating in a Web-based trial allows patients like me to be heard in PD research, even if we don't live near a research center."
Emerging technologies are changing the face of Parkinson's disease research, and the participation of PD patients and family members alike remains crucial. For Laurine, the decision to stay involved is a simple one. "The only way to advance PD research is for people with the disease to provide information about what we experience," she says. "And if scientists out there are eager to do the research, we should step forward and get involved.  Participating in research studies helps us all get one step closer to a cure."
To find out about PD clinical trials that need you, visit www.foxtrialfinder.org. 
See this article and more in the Fall 2014 Fox Focus newsletter.