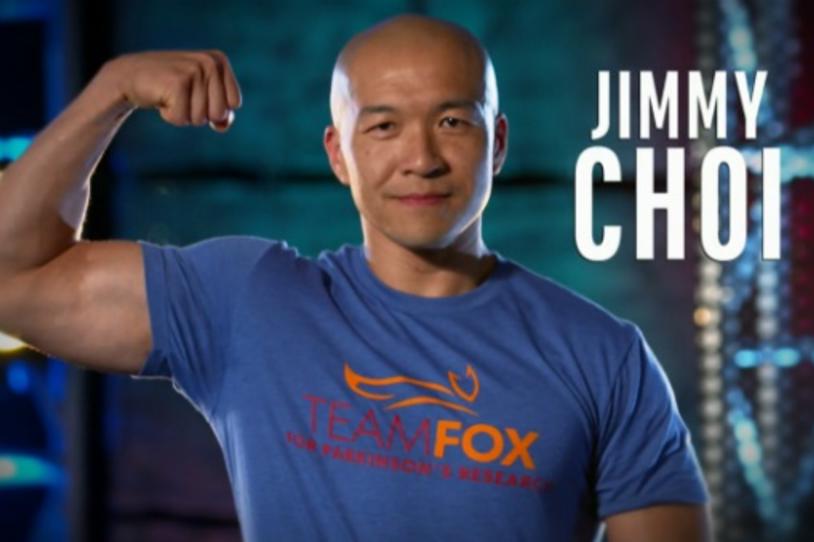 Last night, less than a year after he first competed on "American Ninja Warrior" (ANW), Jimmy Choi returned to the famed obstacle course competition for another chance to hit the buzzer. The Team Fox athlete, who was diagnosed with young-onset Parkinson's disease at age 27, did not disappoint.
Even before Jimmy leaped onto the first obstacle, we were reminded of the inspirational journey that landed him there -- and of the friendship that began last summer with ANW co-host Akbar Gbajabiamila, whose father lives with Parkinson's disease (PD).
Since Jimmy introduced Akbar to The Michael J. Fox Foundation (MJFF), together, they have been invaluable in identifying new ways to engage the PD community. In fact, you can register now to hear Jimmy and Akbar discuss exercise and Parkinson's during a special Third Thursday Webinar at 7 p.m. ET on June 21.
Now a member of the Foundation's Board of Directors, Akbar is hosting his own Team Fox event in August, "Parkour 4 Parkinson's," which will unite members of the Ninja Warrior and Team Fox communities to help reach a fundraising goal of $350,000. Akbar will undoubtedly enlist Jimmy's fundraising expertise for this major undertaking to advance Parkinson's research.
There was tremendous momentum leading up to Jimmy's run, thanks to members of Team Fox and the Parkinson's community. Hundreds offered words of encouragement online, purchased signature Fox Ninja t-shirts -- with proceeds benefitting MJFF -- and joined the virtual watch party. On social media, many expressed their gratitude to Jimmy for using the ANW platform to raise awareness. Claudia Revilla told her fellow MJFF Patient Council member, "What you have done today will bring benefits for all of us tomorrow." 
On the set in Indianapolis, the energy was palpable with a squad of fans decked out in Team Fox gear and matching Fox Ninja shirts. Jimmy's wife and two children stood in the front row holding their breath along with the millions who tuned in worldwide as he fought to maintain his grip over a pool of water. Watch the recap: 
Inspired? Here are a few ways you can be part of our mission to cure Parkinson's, too: