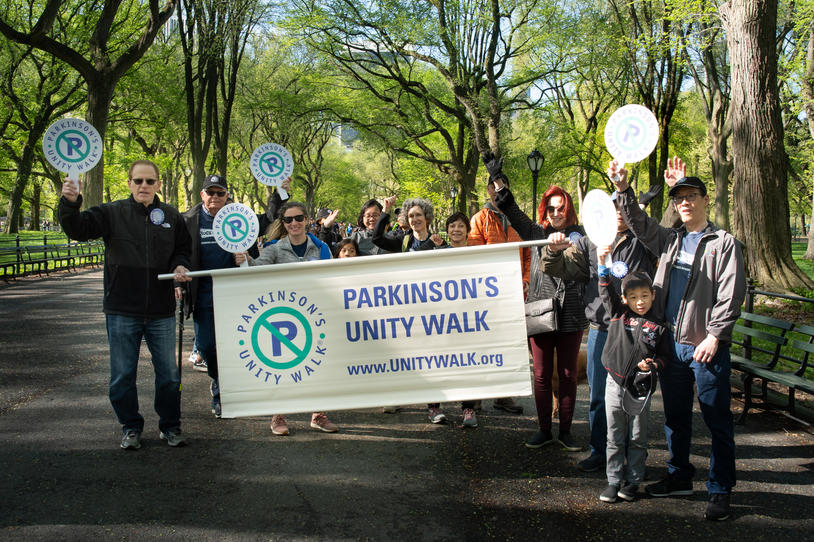 Editor's note: In response to COVID-19, the 2020 Parkinson's Unity Walk has gone virtual. Join the first ever Virtual Unity Walk & Celebration Event on July 11th starting at 11am EST. 
---
With a vision for finding a cure for Parkinson's disease (PD), and the help of 200 friends, family members and fellow patients, Margot Zobel founded the Parkinson's Unity Walk in 1994. The inaugural Unity Walk raised over $16,000 for research. For 26 years, the Unity Walk has continued to grow in participation and impact, with over 11,000 participants walking together at last year's event! 
On Saturday, April 25, thousands of walkers are expected to gather for the 26th Parkinson's Unity Walk in New York City's Central Park. Here are five reasons why you need to be at this year's event:
1. Be Active: Keep walking toward a cure.
There is evidence that exercise may hold benefits for people with PD. The Parkinson's Unity Walk welcomes anyone who wants a cure to join — people living with Parkinson's, caregivers, family, and friends — all are invited to come out and get moving!
2. Be Informed: Learn more about living with the disease.
At the Unity Walk, participants will have the opportunity to learn about disease management by visiting the booths of Parkinson's organizations, healthcare experts (including movement disorders specialists), and movement disorders centers. You can also watch exercise demonstrations and visit the booths of sponsors to learn about current medical therapies.
3. Be a Supporter: Help fund critical research.
The Parkinson's Unity Walk is the largest single-day grassroots fundraiser for Parkinson's disease research in the United States. Since inception in 1994, the Unity Walk has funded hundreds of research studies and have raised a combined total of over $27 million in donations — with 100 percent supporting research. Donations from this year's event will go directly to research funded by four major Parkinson's foundations including The Michael J. Fox Foundation. In 2019, the Unity Walk raised over $1.5 million to fund treatments to halt or slow the progression of the disease and improve the quality of life for patients.
4. Be Part of Something Big: Unite with the community.
The Parkinson's family is a large one. The Unity Walk lets you meet new people, as well as reunite with old friends. When you gather with thousands of fellow walkers, you will feel the impact of people connecting with one shared goal — ending Parkinson's disease.
5. Be Empowered: Finish the Unity Walk strong.
As you cross the finish line, leave Central Park with new tools to manage your disease, the support of an entire community, and a sense of hope and promise for the future. The Unity Walk's goal is to equip each participant with the resources and encouragement to live well with Parkinson's disease all year round.

Will you be walking with us? To join, please register at  UnityWalk.org.   
Posted by: Parkinson's Unity Walk