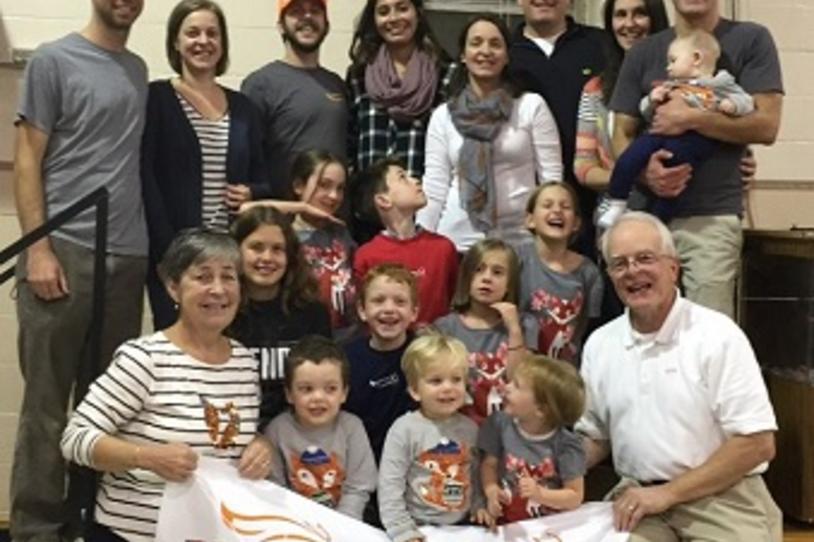 You don't need to be an athlete to experience all Team Fox has to offer. For Kathy and Joe Holden, hosts of an annual bingo fundraiser and two of the most well-connected members of the Team Fox community, it's all about showing up. Of course, that's easier said than done and Joe credits their deep Team Fox roots to "the strength of our kids, grandkids and Kathy's siblings."
As one of eight siblings, Kathy had an entire team ready to mobilize at the time she was diagnosed with Parkinson's disease in 2011. "Kathy decided that if anyone was going to find a cure, it was going to be The Michael J. Fox Foundation. When fundraising became her mission, there was never any doubt that everyone was going to be a part of it. That's the way our family is," says her sister Mary.
Since 2012, the family's all-hands-on-deck support has resulted in steady growth of their annual bingo event. And Team SheaKin for a Cure -- comprised of the Holdens (Kathy and Joe's four kids and their spouses, and 10 grandkids) and Sheas (Kathy's siblings and in-laws, their kids and grandkids) -- has collectively transformed everything from cornhole to lemonade stands into unique Team Fox fundraisers. "The level of support is mind-boggling and keeps us motivated," says Joe.
Most recently, their 11-year-old granddaughter Kate hosted a kid's triathlon in her North Carolina neighborhood and raised more than three times her initial fundraising goal. Kate's mother Courtney said, "Kate has seen what my mother does with bingo and she has such a great connection with her grandmother. It was really her doing, networking to get donations and raffles." She adds, "It's great seeing that my kids recognize the importance of being there to support family in whatever cause it may be."
What began with Kathy's brother Kevin in 2014, has now become a tradition: every November a family member represents Team Fox in the New York City Marathon. "We weren't as involved as we are today when I sent an email to Team Fox about running. I got a call right away. It was a really welcoming experience," recalls Kevin. Meeting other Team Fox members throughout the race weekend, "we were part of the family," he says. When he reached the 5th Avenue Team Fox cheering station, "the look on Kathy's face at that moment made it all worth it," said Kevin.
Kathy, too, recalls the infectious energy that day. "We were exposed to an amazing group of people and we've built up an extended Team Fox family," she says. "Team Fox athletics connected us to so many wonderful people we're very close with today."
The couple's involvement has introduced them to a community of people with Parkinson's and their care partners. "They love to see advances in medicine and trials going on, especially in the young-onset population," said Courtney. For Kathy, the fundraising "isn't about her. She feels lucky to be relatively uninhibited by the disease. She's doing it for others, those with young families that she relates to," says Courtney.
Just as their family travels the country to support them, Kathy and Joe show up for fellow Team Fox members. Last year, they helped with the expansion of another Team Fox event, Tips for Parkinson's in Washington, D.C. and in September, they traveled to Old Orchard Beach, Maine for the New England Parkinson's Ride -- to name a few.
Like so many who encounter the Holdens, Kevin says, "It amazes the rest of us -- some of the things Kathy does. And Joe is right there every step of the way."
Visit teamfox.org to learn about the different ways to get involved with Team Fox.