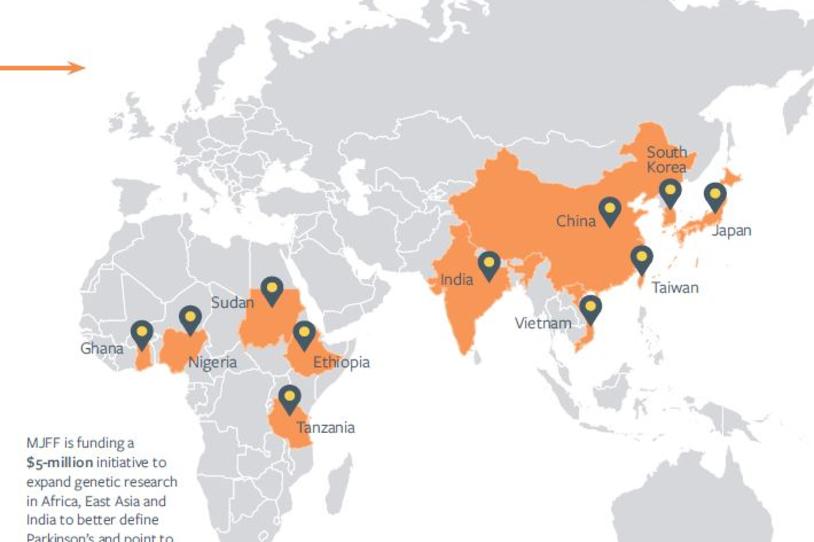 Parkinson's is a global disease that affects  everyone differently. The varied causes of Parkinson's and its individualized progression mean scientists need to partner with a wide variety of patients to understand the disease and develop better treatments. 
The Michael J. Fox Foundation (MJFF) is committed to inclusivity in research, building on-ramps diverse populations can take to participate in Parkinson's studies. Two new programs launched this summer, which aim to engage people previously underrepresented in Parkinson's research. 
Research on genetic mutations linked to Parkinson's disease has revolutionized drug development — therapies against three genetic-linked targets are already in clinical trials — but most research in this area has been done in people of European descent.  
Now, our Global Parkinson's Genetics Program is funding three international teams to collaborate with patients and clinics in five African countries, five East Asian nations and India to gather a more global picture of Parkinson's genetics. Analyzing genetic information in people from these regions may uncover new genetic links to Parkinson's, which could point to new treatments. And shared genetic mutations may mean therapies already in development could benefit many more people. 
Here in North America, another MJFF-funded initiative, Fostering Inclusivity in Research Engagement for Underrepresented Populations in Parkinson's Disease (FIRE-UP PD) is a partnership with the Community Access, Recruitment and Engagement (CARE) Research Center at Massachusetts General Hospital. FIRE-UP PD is supporting community outreach initiatives in Boston, Chicago, Denver and southern Florida to increase diversity and inclusion in Parkinson's research.  
Working with community leaders and organizations, FIRE-UP PD study sites will develop culturally relevant messaging and materials driving local populations to enroll in the MJFF-sponsored Fox Insight (foxinsight.org). The online study gathers information on medical history, lifestyle factors and patient perspectives — from any English speaker worldwide with or without Parkinson's — to better understand disease and improve clinical trial design. 
"Parkinson's research has made significant strides toward better diagnostics and new treatments in past decades, but most research has included only a subset of patients with a common European ancestry," said MJFF Deputy CEO Sohini Chowdhury. "Imagine where we would be with a more holistic view of the disease."