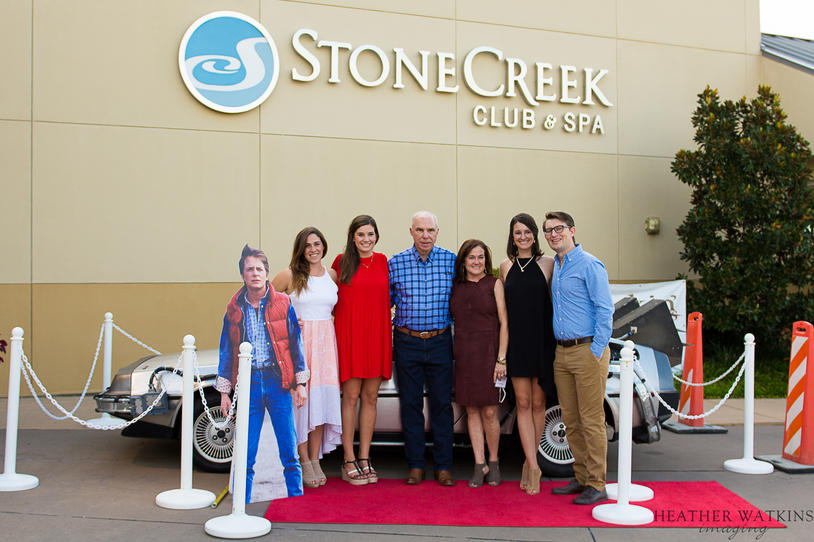 Despite taking a year off, one of the biggest parties in Louisiana hasn't lost its momentum. "People are genuinely excited," says Penny Dastugue. In 2009, Penny's husband Quentin was diagnosed with Parkinson's disease (PD). Penny, Quentin and their three daughters immediately sprang to action to form Kickin' Parkinson's, a Team Fox powerhouse that's fundraised over $1.5 million to support The Michael J. Fox Foundation (MJFF).
For their first event, the Dastugues hosted a 5K run to raise money for Parkinson's research. The event was a success; however, Penny says, "Our friends prefer a good party." Nine years later, the party continues!
On Thursday, October 17 they'll host their annual Kickin' Party — with an added twist. "We try to keep it a must-do event and create a new experience for the guests," says Penny. They accomplish that by choosing a fresh theme every year. This year, it's off to the races with an equestrian theme.
Until a few years ago, Kickin' Parkinson's was one of the only fundraisers in the area surrounding their hometown of Covington, Louisiana. Quentin, now a member of MJFF's Patient Council says, "Being the only game in town was an advantage for fundraising, but also allowed us to meet a ton of great people that were inspired by MJFF. People who were newly diagnosed would reach out to us as a local resource."
Now, Kickin' Parkinson's has partnered with various support groups, charities and fundraisers in the area, including the Crescent City Classic 10K and the Team Fox Young Professionals (YPs) of New Orleans. In 2017, the NOLA Team Fox YPs founder, Madison Hurwitz, received the Kickin' Parkinson's Don't Stop Believin' Award and recently was named part-time Executive Director of Kickin' Parkinson's. The group also recognizes individuals who serve as supportive advocates for people with PD in the New Orleans area through the Annual Caregiver Award.
Over the years, they've been able to scale their efforts — hosting nearly 600 guests annually — thanks to 100 sponsors, over 25 restaurants, 50 community partners, numerous volunteers and the Executive Committee, comprised mostly of individuals with a PD connection. In addition, "The Stone Creek Club and Spa has supported us in the most extraordinary way. Like us, their mission is to help people so that's really distinguished them as an exceptional partner," says Quentin.
Still, it's clear that the couple behind Kickin' Parkinson's is the ultimate key to its success. "Quentin sets big goals. He is the driver of our success," says Penny. "And Penny is the builder of the success," adds Quentin. "We're a good team."
Click here to purchase tickets to the highly anticipated Kickin' Party.