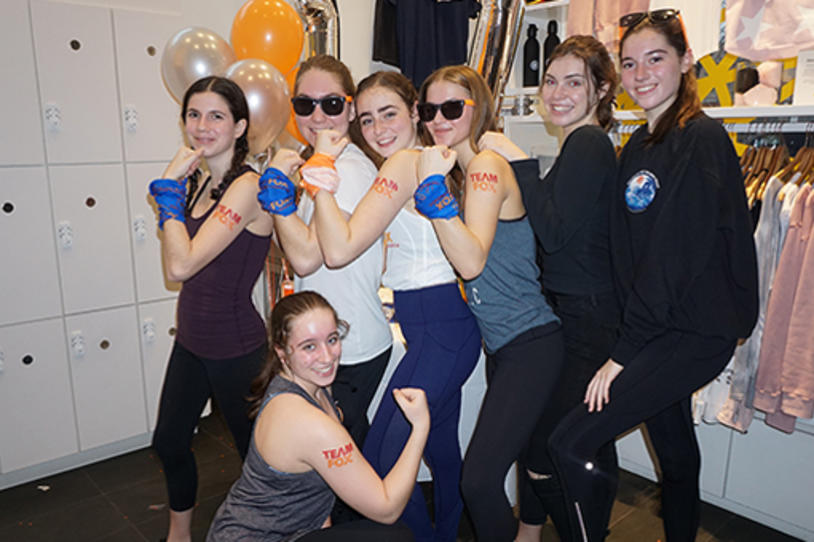 Editor's Note: For more community profiles, read the Spring/Summer 2018 edition of The Fox Focus, our biannual newsletter. 
There's no age minimum (or limit) to join Team Fox, The Michael J. Fox Foundation's grassroots fundraising arm. With 100 percent of Team Fox proceeds going to MJFF's programs to speed a cure for Parkinson's, children and teens can take on leadership roles while making a real difference for the PD community.
The creativity of Team Fox members is boundless and young fundraisers are no exception when it comes to engaging their friends, families and communities. While some youth organize or take part in large-scale events such as film festivals and piano concerts, others tackle smaller but no less powerful events, such as field days, penny wars and even spelling bees. And many existing Team Fox events, from Bowl-a-Thons to the annual New England Parkinson's Ride, welcome youth participants.
Some young fundraisers dedicate celebratory milestones, such as a mitzvah or birthday, to MJFF's mission. Emi Silverstein of New York celebrated her 17th birthday with Team Fox in honor of her father, Jonathan, who was diagnosed with PD last year. "At the time, I knew little about the disease. I was really scared," says Emi. She discovered Team Fox and "an amazing community of individuals who cared about finding a cure," she says. Emi's birthday party combined one of her favorite activities -- SoulCycle indoor cycling -- with an opportunity to support a cause close to her family, and raised more than double her fundraising goal. Fueled by the success of her event, Emi led a month-long Parkinson's Awareness Month campaign at her school, concluding with a large bake sale. "Providing an incentive to give back in the form of sweet treats, t-shirts or stickers, is great motivation," advises Emi.
According to Zoe Butchen, who at 17 has already raised over $100,000 for Parkinson's research, "Any idea is a good idea and whatever is popular at the time can help create a movement." Three years ago, when Zoe learned that her father has PD, she created "Dance, Shake, Donate," a social media effort asking friends and family to donate while showing off their dance moves to the tune of Taylor Swift's "Shake It Off." She has continued to evolve her event, and in 2018, it grew into a dance marathon at her Connecticut high school.
No matter your age or fundraising goal, Zoe says, with "a personal connection and passion, you can create something meaningful."
Join in the fun. Visit michaeljfox.org/summerseries for more family-friendly ideas to help speed a cure with Team Fox.