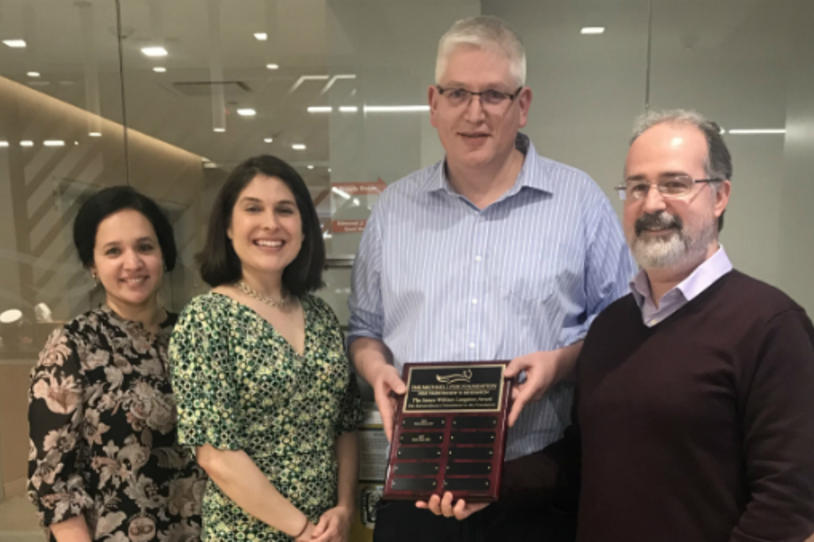 To advance Parkinson's understanding and therapeutic development, The Michael J. Fox Foundation (MJFF) must maintain a broad understanding of the state of the field and challenges to breakthroughs. In addition to our in-house staff of scientists, MJFF relies on a global network of scientific advisors to help us stay up-to-date on progress and shape our research strategy and funding allocations.
Each year we honor one of our advisors for their service and dedication to our shared goals. This year's recipient of our annual J. William Langston Award is Dario Alessi, PhD, professor and director of the Medical Research Council Protein Phosphorylation and Ubiquitylation Unit at the University of Dundee.
Alessi is a leader in the study of a certain class of cellular proteins (called kinases), including Parkinson's implicated proteins LRRK2 and PINK1. He is a frequent Foundation advisor, contributing his expertise at, for example, many MJFF-led summits and workshops. He has helped guide the MJFF LRRK2 funding strategy and led the MJFF LRRK2 Biology Consortium's work connecting the dots between LRRK2 and another class of proteins, Rabs. Now, as LRRK2 drugs enter the clinic, measuring Rabs is a means to measure the impact of a drug on LRRK2 function.
"Dr. Alessi has provided invaluable guidance that has helped shape our LRRK2 portfolio. We are fortunate to have a leader in the protein kinase field support the Foundation's effort in accelerating LRRK2 kinase drug development," says Marco Baptista, PhD, MJFF director of Research Programs, who leads the Foundation's LRRK2 strategy.
MJFF established the J. William Langston Award in 2006 as a way to show our appreciation to our hard-working advisors. Langston was a founding scientific advisor when the Foundation was first getting on its feet and worked tirelessly with MJFF staff in those early years to pull together world-leading experts in Parkinson's disease research and to coordinate our first funding initiatives. The Langston Award is a reflection of his original spirit and commitment to the Foundation.
View a list of our current Fox Advisors and complete a short form to lend your scientific expertise.