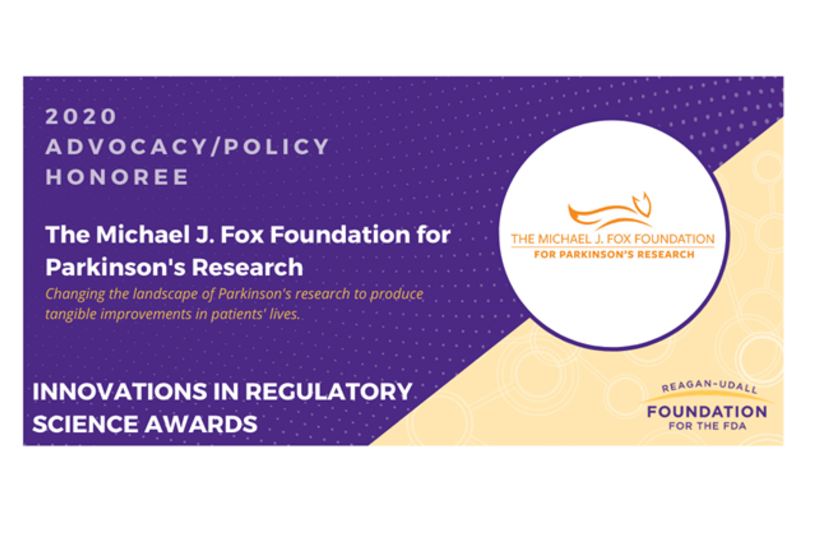 Four years ago, The Michael J. Fox Foundation for Parkinson's Research (MJFF) formally integrated public policy into its programming. Since then, the Foundation has rallied an engaged group of grassroots policy advocates — nearly 20,000 people — to take action on policy priorities that matter to the Parkinson's community.
On December 8, 2020, MJFF was recognized for this work and received the Advocacy/Policy Award from the Reagan-Udall Foundation for the Food and Drug Administration. The award — which honors individuals or organizations that have made an impact to improve public health through advocacy — was conferred to the Foundation at the 2020 Innovations in Regulatory Science Awards Dinner.
Foundation leadership including Michael J. Fox, Co-Founder and Executive Vice Chairman Deborah W. Brooks and CEO Todd Sherer, PhD, jointly accepted the award on behalf of the hundreds of thousands of individuals — patients, families, researchers and partners — who enable our work.
"This recognition means the world to us," said Michael J. Fox. "Twenty years ago, laying out the blueprint for the Foundation, we had no idea it would grow to this extent. With the help of countless individuals, we set out to do whatever it takes to speed tangible results for people and families with PD. If it matters to people with Parkinson's, we're on it."
In addition to prioritizing Parkinson's disease on Capitol Hill, MJFF was selected to receive the award due to its critical role in the Parkinson's research landscape. In the last seven years, there have been 17 new Parkinson's drugs and treatments approved by the FDA — and two of them were directly funded by MJFF. (Learn more in our 20 Years in Review and Look Ahead publication.)
Interested in learning more or getting involved in Parkinson's public policy? Sign up at michaeljfox.org/advocacy.