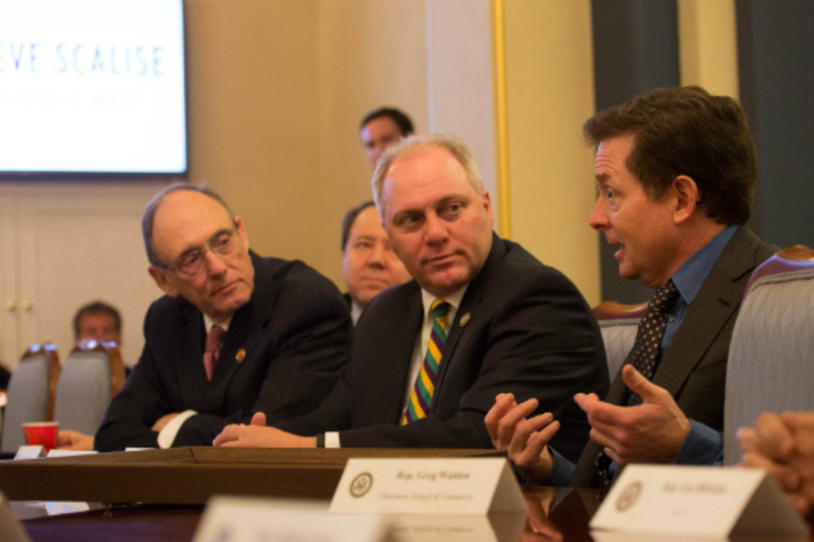 On Tuesday, February 28, as part of the Foundation's 2017 Parkinson's Policy Forum, Michael J. Fox met with bipartisan members of the House of Representatives to urge lawmakers to support policies that safeguard federal research funding and access to care for the more than 1 million Americans living with Parkinson's disease (PD).
"Our Foundation is grateful for the effort, farsightedness and integrity of the members of Congress and their staff who took the time to hear from the nationwide Parkinson's community today -- 200 individuals representing 43 states," said Michael J. Fox. "We stand ready to work together to preserve critical federal funds for research and ensure access to health care for everyone living with Parkinson's."
The following members of the House of Representatives were in attendance: Rep. Gus Bilirakis (R-FL), Rep. Michael Burgess, MD (R-TX), Rep. Rodney Frelinghuysen (R-NJ), Rep. Gene Green (D-TX), Rep. Nita Lowey (D-NY), Rep. Frank Pallone, Jr. (D-NJ), Rep. Nancy Pelosi (D-CA), Rep. Phil Roe, MD (R-TN), Rep. Steve Scalise (R-LA), Rep. Pat Tiberi (R-OH) and Rep. Fred Upton (R-MI).
Fox's meeting took place on MJFF's Hill Day, where 200 people living with Parkinson's and caregivers from across the country met with lawmakers on the Hill to discuss key issues impacting the Parkinson's community.
The Policy Forum brought together Foundation leadership and advocates to discuss the current Parkinson's policy landscape, honor distinguished PD advocates and mobilize Hill Day activities to educate Congress on legislative issues that matter most to those affected by Parkinson's disease.
Select Forum panels were shared via Facebook Live and can be accessed on MJFF's Facebook page.
Since inception, MJFF has invested more than $700 million in Parkinson's research, complementing federal funding, which is imperative to drive progress in drug and device development from basic research through FDA approval. In addition to supporting continued and increased federal funding for research, MJFF's other policy priorities include federal support for drug development and approvals, and safeguarding access to care and support.
Learn more about the Foundation's work in public policy. And stay tuned to our blog for a full recap of the 2017 Parkinson's Policy Forum.