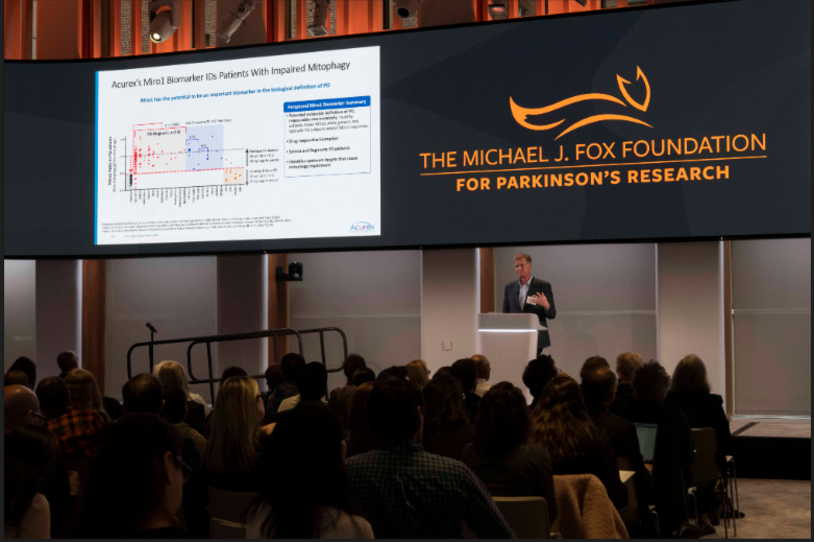 More than 300 research and business development professionals from over 170 institutions gathered in New York City on October 19 to hear about novel advances in Parkinson's disease drug development. They were there for the 15th annual Parkinson's Disease Therapeutics Conference, the only scientific conference focused exclusively on Parkinson's disease (PD) drug development, which is hosted each fall by The Michael J. Fox Foundation (MJFF).  
In opening remarks, MJFF Chief Program Officer Sohini Chowdhury recalled 2006, the first year of the conference, when "the target pipeline for disease-modification was thin and longitudinal datasets comprising biological and clinical data from patients were small and few."   
Fifteen years later, she sees "a very different therapeutic landscape," she said, one that includes more than 100 unique companies developing therapies for PD. More than half of those efforts, she noted, focus on disease modification or cognition, areas of deep need for people and families with PD. 
Research and development also have seen a meaningful shift toward people with PD to anchor improved disease knowledge and therapeutic development, she said, citing patient-derived data and insights from studies like the MJFF-sponsored Parkinson's Progression Markers Initiative (PPMI), which was designed to better understand Parkinson's onset and progression. 
The conference drew a maximum capacity audience for presentations and panel discussions on advances in emerging drugs, therapeutic development, and classifying and measuring PD. Topics that received some of the most interest included:   
News on the Biological Classification and Measurement of PD: The Parkinson's field is in the midst of a "paradigm shift" driven by new insights into the disease biology, said Kenneth Marek, MD, distinguished scientist from the Institute for Neurodegenerative Disorders. Marek described research underpinning a new biological framework defining and staging PD based on its biology rather than symptoms alone. The outcome of a broad, international coalition, the framework was enabled by the new biomarker for PD, the alpha-synuclein seeding amplification assay (αSyn-SAA) which can detect the presence of the disease years before symptoms develop and supported by PPMI data. Marek, the principal investigator for PPMI, drew attention to research showing people with REM sleep behavior disorder (RBD) and severe loss of smell test are highly likely to test positive on the αSyn-SAA prior to developing PD symptoms like tremor and gait disturbances, noting RBD and smell loss can be used as early indicators of the disease. 
Later, a panel of industry scientists discussed the role of the biomarker and staging framework in accelerating and improving pharmaceutical development. Use of the biomarker can ensure trials enroll participants with αSyn biology and enable trials in people at earlier stages of the disease. Panelists also noted that the staging framework supports field-wide standardization and consistency in trial design. 
Insights on Using Patient Voices to Drive Successful Research and Development: A panel including industry representatives and people with Parkinson's discussed the growing role of patients in the development of new treatments, something that is "not just good for patients, it's also good for business," noted Katie Kopil, PhD, the MJFF panel moderator. Industry started involving patients to improve clinical trials enrollment but now involves them earlier in the drug development process as well, said Vicky DiBlasio, PhD, from Sanofi. This can give industry and regulatory agencies a better sense of whether a potential new therapy fills an unmet patient need, which is not always the same as an unmet medical need, she noted. Soania Mathur, MD, from the MJFF Patient Council, reminded the audience that patients are the best source of information when assessing whether treatments meaningfully improve quality of life, and that patient priorities are not uniform: they can differ depending on age, gender and severity of disease, among other factors.  
Lessons on Applying Digital Technology to Measure PD More Meaningfully: Patient insights also play a valuable role in the growing field of digital technology research, according to Jamie Adams, MD, from University of Rochester. Adams presented results from WATCH-PD, a multicenter, prospective, longitudinal study that tested the use of smartphones, digital watches and digital movement sensors in tracking gait changes, tremor, and other symptoms among people with early untreated PD versus people without PD. The researchers asked patients for their input on whether the study monitored meaningful aspects of disease symptoms, and patients completed a symptom map to rank the importance and "bothersomeness" of symptoms, allowing investigators to determine the real-world relevance of their assessments. (A recent report from the health-news publication STAT covered other promising advances in digital technology use in PD care.)   
An Update on the Genetics of Parkinson's: The Global Parkinson's Genetics Program (GP2) has now collected and completed genotyping approximately 35,000 collected samples, with another 45,000-plus samples in the pipeline, including many from underrepresented populations around the world, said Andrew Singleton, PhD, from the National Institute on Aging. The field currently only understands about one-third of the heritable aspects of PD, with most findings coming from northern European populations, but that's changing due to the ongoing GP2 genotyping effort, Singleton said. He cited a recent, GP2-enabled study that identified a novel risk factor in African ancestry groups and said that as GP2 grows and more groups are involved, discoveries like this one will accelerate.  
---
Parkinson's research studies urgently need volunteers to help move science forward. The Parkinson's Progression Markers Initiative (PPMI) is the Foundation's landmark research study on a mission to stop Parkinson's. PPMI is exploring how brain disease starts and changes in people of all backgrounds. Learn more about PPMI and join the study that's changing everything.