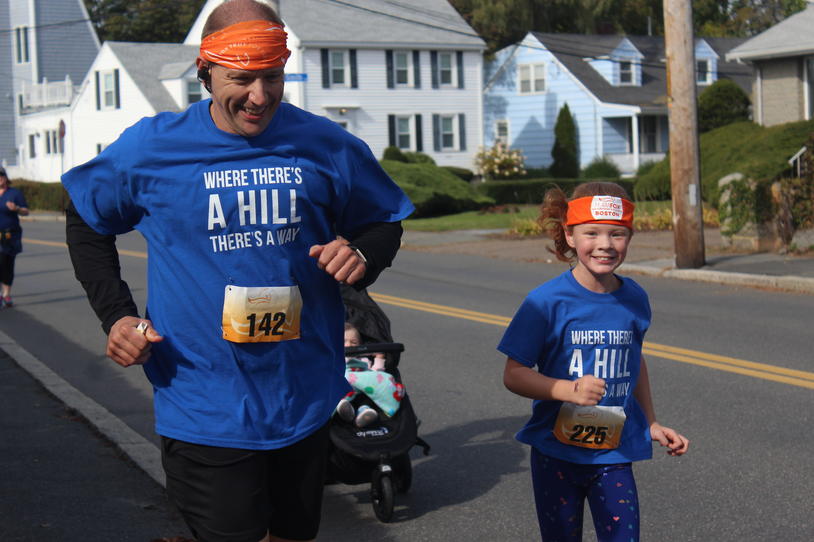 Since 2017, the Fox Trot 5K Run/Walk Series has united more than 10,000 community members and raised over $2 million to support The Michael J. Fox Foundation's high-impact research programs.
The Michael J. Fox Foundation (MJFF) recently announced the launch of our fourth annual Fox Trot 5K Run/Walk Series, a collection of family-friendly community events to raise funds and awareness for Parkinson's disease research. With eight unique events across the country, the 2020 Series promises to be the most impactful yet. As always, 100 percent of the proceeds go directly to MJFF's urgent pursuit of improved treatments and a cure for Parkinson's.
With an ambitious goal of $1.2 million in 2020, participants are encouraged to spread the word within their communities and fundraise. And since we're raising the stakes, we're offering a Fox Trot 5K Series duffel bag for participants who raise at least $250 through an official fundraising page.
Every runner, walker and supporter can make a difference. Will you join us at one of our 2020 events?
Los Angeles Fox Trot, March 15 -- The Series kicks off in one of the original Fox Trot cities, but this year we'll be at the iconic Rose Bowl Stadium. In addition, we're introducing more options to the schedule with a 1-mile Walk and Kid's Fun Run.
Austin Fox Trot, April 26 (now on Sunday!) -- After a successful inaugural event in 2019, we're heading back to Texas to close out Parkinson's Awareness Month with the dedicated Austin community.
Chicago Fox Trot, May 9 -- The Shake It Off 5K joins our roster of Fox Trot events under a new name. Race-day options include a 5K Run/Walk, 1-Mile Walk and Kid's Fun Run.
Twin Cities Fox Trot, July 11 -- If you're in the Midwest, you'll have another opportunity to join the Series in St. Paul for our second annual Twin Cities event.
Finally, we'll close out 2020 in the cities where the Fox Trot 5K Series all began:
New York Fox Trot, August 6 
Bay Area Fox Trot, October 10 -- Now on Saturday!
Boston Fox Trot, October 18 -- Now featuring a dedicated walking course and Kid's Fun Run.
Orlando Fox Trot, November 14
Registration is officially open so find your Fox Trot 5K today. Remember, if you sign up online you'll receive an official Fox Trot 5K Series t-shirt.
Looking for more ways to get involved?
Volunteer at an event. Sign-ups are posted on event-specific webpages.
Your company can support the Series through corporate teams, sponsorship and in-kind partnership. Email foxtrot@michaeljfox.org for more information.
Donate to help us reach our $1.2 million fundraising goal.
The 2020 Fox Trot 5K Run/Walk Series is presented by American Airlines and sponsored in part by Sunovion Pharmaceuticals, Inc. and Merz North America, Inc.