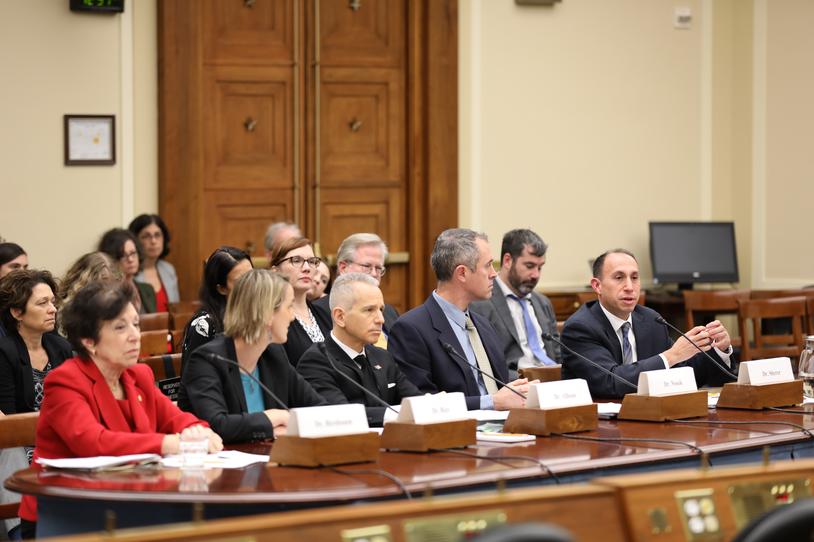 Editor's Note (June 3, 2021): Great news! The Environmental Protection Agency (EPA) last week finalized a rule to undo the Trump administration's "secret science" regulation, which restricted the agency's ability to consider certain studies. The previous administration billed it as a transparency measure, but critics (MJFF included) argued that it would undermine the use of important public health studies that keep their data private for reasons like privacy. This reversal by the Biden administration is a win for science and a win for people with Parkinson's. To all who advocated on this issue, we thank you. Your voice was heard!
At the time of his congressional testimony, Dr. Sherer was MJFF CEO. He has since been named Executive Vice President of Research Strategy.
Earlier today, The Michael J. Fox Foundation (MJFF) CEO Todd Sherer, PhD, testified on Capitol Hill before the U.S. House Committee on Science, Space and Technology. The hearing, "Strengthening Transparency or Silencing Science? The Future of Science in EPA Rulemaking" included testimony from six witnesses who spoke about what the U.S. Environmental Protection Agency (EPA) has labeled "Strengthening Transparency in Regulatory Science." This proposed rule by the EPA would effectively limit the amount and types of science used in determining federal regulations, including policies and programs related to environmental restrictions in support of health. This rule would also threaten to expose patient privacy, as it would require raw data on research to be made public, which in turn could expose confidential information on diagnoses. 
People with Parkinson's disease have every right to keep their diagnosis private until they are ready to share it publicly. They also have a right to protections against environmental toxins that raise their disease risk. The proposed EPA rule requires study volunteers make a choice: waive their privacy or their desire to participate in key research. 
If this rule were enacted, patient privacy would be at risk. And thousands of studies would be excluded from the EPA's evaluation process when it comes to policymaking. The proposed rule will force the EPA to make regulatory decisions based on less information, which compromises its core mission. 
A balance between transparency and patient confidentiality 
At The Michael J. Fox Foundation, we believe transparency is critical in research. Open data sharing among the scientific community is a core value of our mission to speed discovery and replication and deepen the public's trust in findings.  
For example, with the consent of 1,500 patient and control volunteers, our Parkinson's Progression Markers Initiative makes all de-identified data available to the research community, which has downloaded data from the study nearly 5 million times. Data from PPMI is made available only when it is de-identified. Stripping data of personally identifiable information is vital in protecting a study participant's privacy.  
As an organization founded by a patient, MJFF takes seriously our obligation to those living with Parkinson's disease, and we expect nothing less of the federal government. In coalition with 62 other public health and medical groups, the Foundation spearheaded a community-wide effort to write a letter to the EPA asking for this proposed rule to not be enacted. And, in 2018, MJFF sent an action alert to researchers across the United States urging them to weigh in on why this rule was harmful to scientific research and regulatory decisions. 
So, what happens next to block this rule from being enacted?   
The MJFF public policy team is working in Washington, D.C. on this issue, and will provide comments on the rule when it is updated for review.  There also may be a time for public comments in the future, and we will share information about how you can weigh in on this issue. 
Stay tuned to our channels for more on this issue. We will need your voice on this and many other policy initiatives impacting our community in the future. 
Interested in watching Todd testify? Watch the archived video feed of the hearing: 
U.S. House Committee on Science, Space and Technology: Strengthening Transparency or Silencing Science? The Future of Science in EPA Rulemaking 
In addition to Todd's oral testimony, which you can watch at the video link above, the Foundation also submitted separate and more detailed written testimony.
And read more coverage on the EPA rule in The New York Times, The Hill, and The Washington Post.  
Related Stories on the Blog: 
Public Health, Medical, Academic, and Scientific Groups Oppose EPA Transparency Rule 
Proposal Could Impact Regulation of Chemicals Linked to Parkinson's