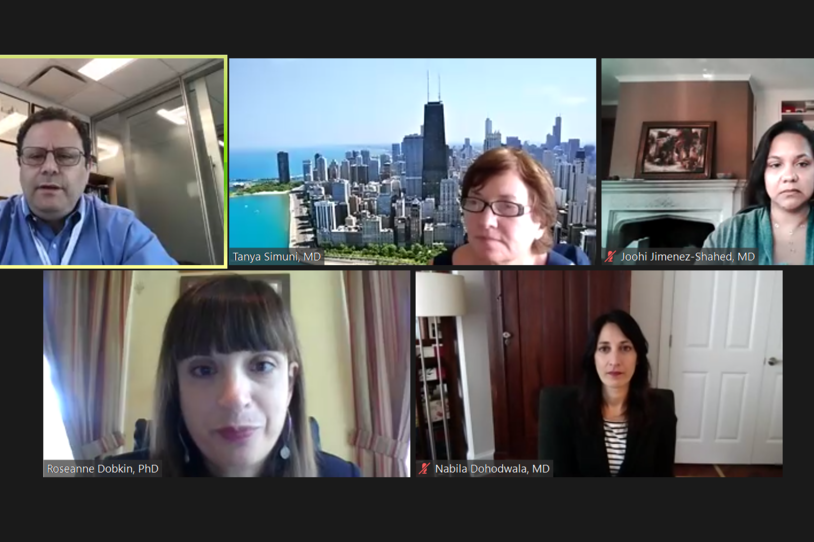 Last weekend, 344 neurology residents, medical students, nurse practitioners and other health care professionals in training gathered virtually for one purpose — to learn about Parkinson's and other movement disorders. These students joined MJFF's annual MDS-PAS Movement Disorders School for Neurology Residents, a commitment with our partner the Edmond J. Safra Foundation, to educate and encourage Parkinson's clinicians as the need for these experts continues to grow. The program — led by field leaders and people living with movement conditions — not only teaches the latest in movement disorders care and research, but also aims to inspire the pursuit of movement disorder careers.
The course typically is held in person over two days each spring, but the pandemic prevented a face-to-face get-together this year. So, we shifted to a virtual format, allowing us to invite a broader range of health care students from across the United States, Canada and Latin America — making this the largest class of the MDS-PAS Movement Disorders School to date.
With course co-directors Steven Frucht, MD, Director of Movement Disorders at NYU Langone Medical Center in New York City, and Tanya Simuni, MD, Director of the Parkinson's Disease and Movement Disorders Center and Chief of Movement Disorders in the Department of Neurology at Northwestern University in Chicago, we built a "hybrid" curriculum. This included a library of pre-recorded, on-demand lectures plus a full day of live programming. On-demand lectures featured an inaugural discussion of disparities in Parkinson's disease care and research presented by Nabila Dahodwala, MD, MS of the University of Pennsylvania. The live course offered a variety of educational programming, including real-time doctor-patient interactions, in which individual patients share their experience, movement changes and what they want trainees to know, as well as a panel conversation in which faculty describe why they chose careers in movement disorders. The faculty's dedication to their patients and enthusiasm for teaching the next generation shone brightly, even through our computer screens.
 
Throughout the course, the two course directors and eight faculty experts lent practical insights — not only about how to examine, reach a diagnosis and treat a person, but also on how to really care for a patient. "When you give someone a diagnosis of Parkinson's, take time to talk to them," said Dr. Simuni. "Explain the natural history of the disease. Answer their — and their family's — questions and address their concerns. Tell them about exercise and support systems and what they can do. Don't ever just send them away to read something on the internet."
This year's participants also had the unique opportunity to hear directly from Stanley Fahn, MD, of Columbia University, founder of the movement disorders field, who spoke about the beginnings and evolution of movement disorders and how, after several decades, he continues to find it fascinating and "fun."  
About this year's course, attendee John Yu, MD, an aspiring movement disorder specialist, said, "I had a truly wonderful day learning about movement disorders and [gaining] insights from the giants in the field. I look forward to working with and learning from all of you as future colleagues!"
Over five annual courses, this program has attracted 678 neurology residents and other health care providers from North, Central and South America as well as the Caribbean. 
Pandemic or not, MJFF is keeping our commitment to educating clinicians in the nuances of Parkinson's care, the latest research, and the possibilities of a movement disorders career.
Additional support for the MDS-PAS Movement Disorders School is provided by sponsors in the biotechnology and pharmaceutical industry including Abbott Laboratories, AbbVie, Acadia Pharmaceuticals, Biogen, Boston Scientific, Lundbeck, Sanofi-Genzyme, and Sunovion Pharmaceuticals, Inc. This corporate philanthropy supports the Foundation's commitment to creating high-quality educational resources while preserving a track record of efficiency in stewarding donor-raised contributions for maximum impact on Parkinson's drug development.
 
Once we capture the attention of prospective specialists, the next step is to train them in a fellowship. Read about The Edmond J. Safra Fellowship in Movement Disorders and meet a few of the movement disorder clinician-researchers we have trained through this program.