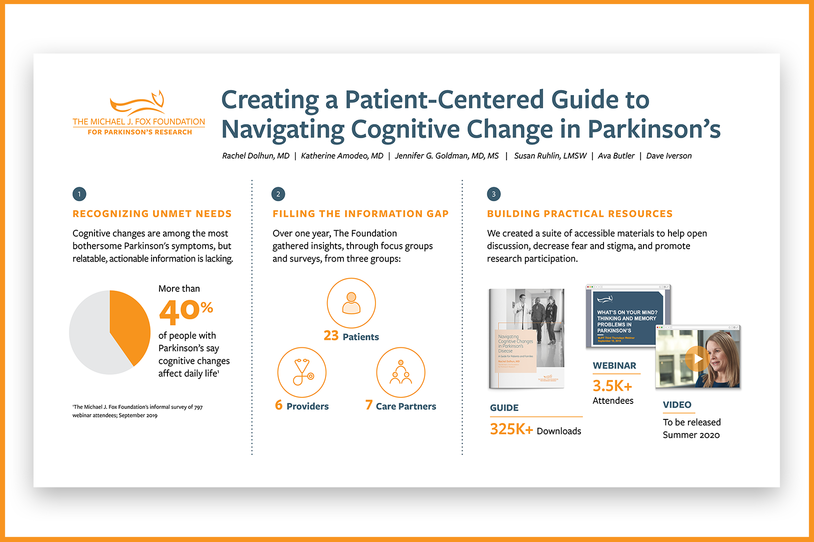 Today, at the first virtual Alzheimer's Association International Conference (AAIC), Rachel Dolhun, MD, movement disorder specialist and MJFF vice president of medical communications, shared insights on the development of and reaction to "Navigating Cognitive Changes in Parkinson's Disease," MJFF's guide to understanding and managing thinking and memory changes. Featuring leading Alzheimer's disease and related dementia researchers, physicians and industry partners, AAIC delivers live and on-demand sessions and poster presentations on the latest studies and discoveries in dementia. 
Watch Dr. Dolhun's poster presentation:                              
For people with Parkinson's disease (PD) and their families, thinking and memory changes can be among the most concerning potential symptoms. But information on this symptom — and how to talk about it — is lacking. To answer this need, Dr. Dolhun worked over the course of a year with people living with PD, care partners, and experts in Parkinson's and cognition, to gather their experiences and perspectives and create a resource for patients and families that offers:
Easy-to-understand definitions of cognition and dementia, and the differences between mild cognitive impairment, Parkinson's dementia, and dementia with Lewy bodies;

 

Steps and activities to boost brain health;

 

Practical tips to open the conversation about cognitive changes;

 

Strategies to work through cognitive changes in PD; and

 

Information on the latest treatments and ongoing research.

 
MJFF community member and care partner for husband Lee who lives with Lewy Body Dementia, Barbara Emery Mendel, who participated in the guide development said, "The resource is an excellent combination of medical, technical and practical information that can help people with Parkinson's, their families and clinicians recognize, discuss and treat cognitive changes."
Not every one of the 6 million people living with PD around the world experiences thinking or memory changes. But for those who do, they can vary from mild to more significant. Like all Parkinson's symptoms, they are unique. (Learn more about thinking and memory changes in Parkinson's.) And research into these symptoms and related conditions, as presented at AAIC, is critical to advance understanding and better treatments.
Speaking about the guide, Dr. Dolhun said, "I regularly hear from patients that dementia is one of the most worrisome symptoms of Parkinson's. The goal of this guide is to encourage people with Parkinson's and their loved ones to learn more about cognitive changes and to take action — whether that's opening a discussion to lessen fear and improve care or practicing healthy habits to boost brain health. There's a lot you can do today about cognitive changes."  
Download the free guide "Navigating Cognitive Changes in Parkinson's."
View Dr. Dolhun's poster presentation and hear more from speakers at the Alzheimer's Association International Conference by clicking here. Registration to the conference is free and open to the public.