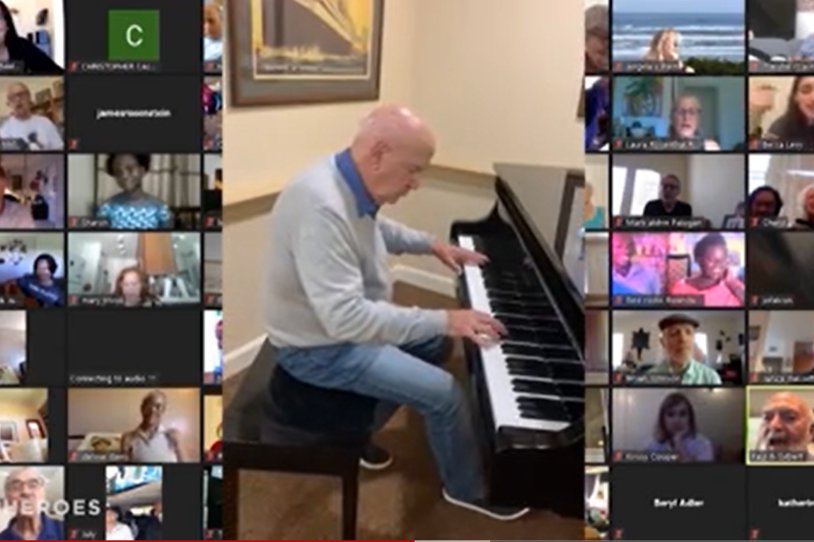 The COVID-19 pandemic has disrupted nearly all aspects of everyday life. But as the saying goes, the show must go on. For Music Mends Minds, a Los Angeles-based nonprofit that creates musical support groups for people with Parkinson's and other neurodegenerative diseases, that means finding new ways to connect.
"We pivoted to an online music-making platform through Zoom led by our board-certified music therapist, knowing how important music and socialization are for the mental health of those living with Parkinson's and dementia," says Carol Rosenstein, who founded Music Mends Minds (MMM) with her husband Irwin, who lives with Parkinson's. (Read about the emotional and physical benefits of music, Ask the MD: Music as Medicine for the Mind.)
Carol was nominated by CNN Heroes in 2018 for her ongoing work using music as medicine. Recently, CNN Heroes followed up with Music Mends Minds to see how the group has adapted during the pandemic. The interview was taken during Music Mends Minds' six-year anniversary celebration and features longtime friend of The Michael J. Fox Foundation, Diana Davidow, who lives with Parkinson's disease. Diana sings with the flagship band created through MMM called The 5th Dementia, which is comprised of musicians and singers living with a brain disease who use their talents to heal and bring joy to others.
In the CNN Heroes clip, Diana is seen performing a memorable rendition of "Raindrops Keep Fallin' On My Head" with her daughter, Meredith Pegula, and granddaughter, Juliette. Even though they can't be together, the three generations of women are able to connect and find joy through music.
Music Mends Minds is offering free online sing-a-long sessions e very Monday, Wednesday and Friday from 1 to 2 p.m. Pacific Time. To join MMM's Zoom sessions live, use the following link: https://zoom.us/j/6378877508.