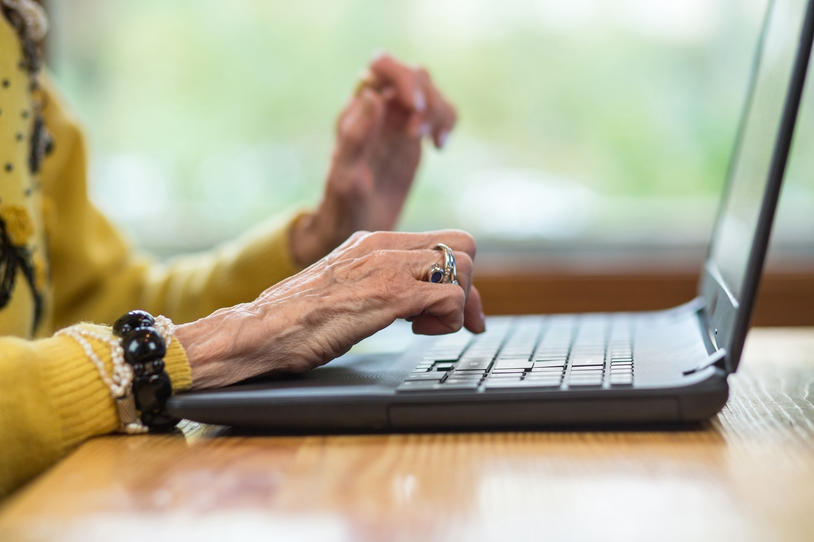 The global coronavirus (COVID-19) pandemic has upended daily life for many people. For those with Parkinson's disease (PD) and their families, this may lead to difficulty managing symptoms or looking after loved ones. Here, we offer tips to care for Parkinson's and maintain well-being during this time.
Continue medical care.
If your Parkinson's disease (and other medical conditions) are stable, cancel routine doctor visits or connect virtually through phone, email or telemedicine. If you have appointments that must be kept, be in close contact with your physician about best times to visit and ways to minimize risk.
Continue taking medication as usual and get a one- to three-month supply of prescriptions. (Many insurance companies and pharmacies are instituting new policies or relaxing restrictions around medication refills, but if cost or coverage limits access, ask about samples, assistance programs or other options to help.) Have medications delivered by local pharmacy delivery programs, mail order services or helpful neighbors.

Watch for new or increasing symptoms. Many people with Parkinson's experience anxiety, and this is a time of heightened anxiety for many of us, with and without PD. Not only may medication help, but there also is talk therapy (which often can be done virtually or over the phone). For some people, yoga, mindfulness or meditation also may be helpful, and there are smartphone apps and online classes available.

For people who receive in-home PD care, it may be riskier to stop than to continue. You may want to talk with your doctor and call the care company to ask about their policies (such as how are they keeping clients and employees safe and healthy during this time) and build a hygiene station in your home (with hand sanitizer at the door and bedside, for example) and be vigilant about having caregivers wash their hands, wear a mask and disinfect equipment.
Exercise regularly.
Many areas have canceled group exercise classes and closed gyms to prevent spread of disease, but you still can exercise on your own.
Look online or to smartphone apps for exercise programs you can do in your home with minimal to no equipment. Because many programs may not be specific to people with PD, check with your physical therapist or trainer for recommendations and always listen to your body — stop if you feel pain or dizziness

Go out for a walk (keeping a distance of six feet from others) early in the morning or during other less-busy times.

Set a time each day to get some movement. If you're used to boxing class twice a week, use that time for your home exercise instead.
Maintain connections.
In Parkinson's, which can feel isolating, it's important now more than ever to maintain connections.
Rather than in-person support groups, join online chat forums. There are groups for people with Parkinson's, care partners of people with PD and people with other shared interests, such as reading. (Now is a good time to join that online book club you've been thinking about! And no need to go out — download library books on your device for free.) These groups offer a sense of community, practical tips and a distraction from the news.

Schedule nightly video chats with friends and loved ones via FaceTime or Skype. In addition to chatting, you can eat meals, stream TV shows or do some other fun activity together.  
Keep a regular routine.
Being at home most, if not all, of the time means your routine and habits may change. But you don't have to (and shouldn't) completely alter your schedule.
Keep your usual wake schedule and bedtime and get the recommended hours of sleep (typically seven to nine hours for an adult). This is especially important for people with significant cognitive changes, who often are confused by changes in routine or disrupted sleep.

Find new ways to keep yourself busy. Take on a cleaning project, a 1,000-piece puzzle or an online language course.

If you're worried about going out, ask a friend or neighbor to walk your dog.
Be smart, savvy and skeptical.
During these times of uncertainty, stock up, but don't hoard necessary items; be wary of misinformation; and watch for potential scams.
Make sure you have enough of the essentials, such as non-perishable food, pantry supplies and medications, for about a month. Look to local organizations (such as Meals on Wheels) or restaurants for meal delivery.

Follow accurate and credible news sources, such as the Centers for Disease Control and Prevention (CDC) and your state health department website, for the latest updates. Watching unfolding news and constant social media posts may increase anxiety. Pause and confirm stories before forwarding to others, and take breaks from reading the news.

Scammers may try to sell you "cures" for COVID-19 (none yet exists although researchers are urgently working on a vaccine and other treatments) or ask for "charity" donations (often by cash, gift card or money order) to organizations you may not have heard much about.
For care partners and loved ones, ask for and offer help.
Care partner responsibilities may increase during this time, and family members and friends might want to check in regularly to make sure loved ones with PD and care partners have everything they need. 
If your care partner responsibilities increase (if paid caregivers can't visit or day programs close, for example), look for local programs that provide meals or other services that can relieve some duties. Ask a social worker or online support group for advice.

Check in on loved ones regularly; offer to help by delivering medications or meals, walking a dog, or helping a care partner with errands. 

Limit in-person visits to older loved ones to avoid exposure. Instead, drop off supplies at the foot door and have virtual check-ins.
Even with proper care, any of us could become ill during this time.
A lot of people may get COVID-19, but for most the symptoms are mild. Apart from that, there may be other illnesses or Parkinson's symptoms might increase.
If you do experience sickness or symptoms, depending on their severity, call your doctor, urgent care or 911. They will give you advice or treatment or prepare for your arrival. (Many medical centers now have separate entrances or instructions for people with respiratory symptoms, for example.)

If you are treating symptoms with over-the-counter medications, check for potential medication interactions with your doctor and pharmacist. You should not combine certain PD medications, such as MAO-B inhibitors (including Azilect, or rasagiline), with some cold and cough medications.

Take all your medications, in their bottles, and a list of your current medications and doctors with you to the urgent care or hospital. And if you are hospitalized, ask the hospital doctors to call your personal movement disorder specialist so they can discuss the best way to continue your medication regimen during your stay.
For more information on how the Parkinson's care and research community is responding to the coronavirus, read our blog and watch our webinar. And stay tuned to our social channels for ways to share how you and your family are managing this unprecedented time.