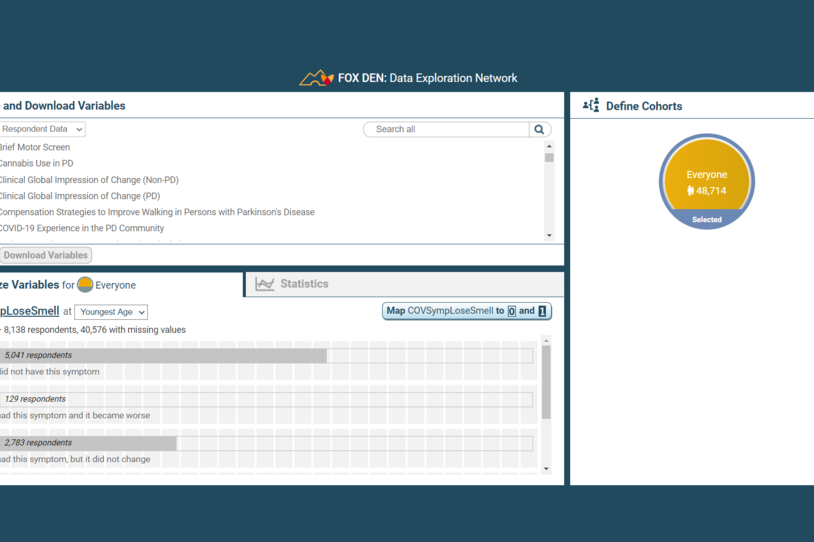 The Fox Insight Data Exploration Network (Fox DEN) launched in 2019 as a tool to easily access and analyze patient-reported outcomes and genetic data from the Fox Insight online clinical study. Fox Insight, which now includes nearly 50,000 participants, is an ongoing study that includes regular assessments of participants, along with genetic data and additional surveys on relevant Parkinson's topics.
The Michael J. Fox Foundation often works with investigators to field surveys in Fox Insight as part of separate studies. All data collected through Fox Insight is then made available to the broader research community through Fox DEN, opening the door to more analyses.
New Data Available
Data from several recent surveys have been added to Fox DEN this year. The first collected information on experiences with COVID-19. More than 8,600 people, including those with and without Parkinson's, have completed the survey. An analysis by the team that designed the survey found that symptoms worsened even in Parkinson's patients who did not contract COVID-19.
Another one-time survey fielded in Fox Insight in 2020 examined sensory misperceptions (seeing or hearing things that aren't there). Data from more than 3,700 people who completed it is now available to the research community in Fox DEN. A third survey asked participants about their use of medical cannabis, including what kind they used, the symptoms they used it to treat,and benefits and side effects they experienced. More than 2,800 people answered those questions.
The largest new trove of data added to Fox DEN recently was collected as part of the PD Patient Reported Outcome of Problems (PD-PROP) study. Since 2017, investigator Ira Shoulson has surveyed more than 20,000 participants about the most bothersome aspects of their Parkinson's, the affect those problems have on daily functioning, and the severity of the problem on a numerical scale.
Qualified researchers can access all of this data and more by registering to use FOX DEN. Once registered, you can see monthly data cuts, which comprise all Fox DEN data available at that time.
Funding for Data Analyses
The Michael J. Fox Foundation recently launched a Request for Applications (RFA) to encourage analysis of the robust data in Fox DEN. The RFA offers up to $100,000 for one-year grants. While the RFA suggests possible goals for analyses — including characterizing disease progression; identifying the role of pharmacological, medical device and/or non-medical interventions on managing Parkinson's symptoms and long-term health outcomes; or determining elements of disease experience that drive patient preference and risk tolerance — it is also open to "analyst's choice" ideas. Review the RFA and application guidelines before the submission deadline on October 22.
Fox DEN is one of several platforms including data from MJFF-sponsored studies. Visit the Data Resources section of our website to explore all available platforms and datasets.