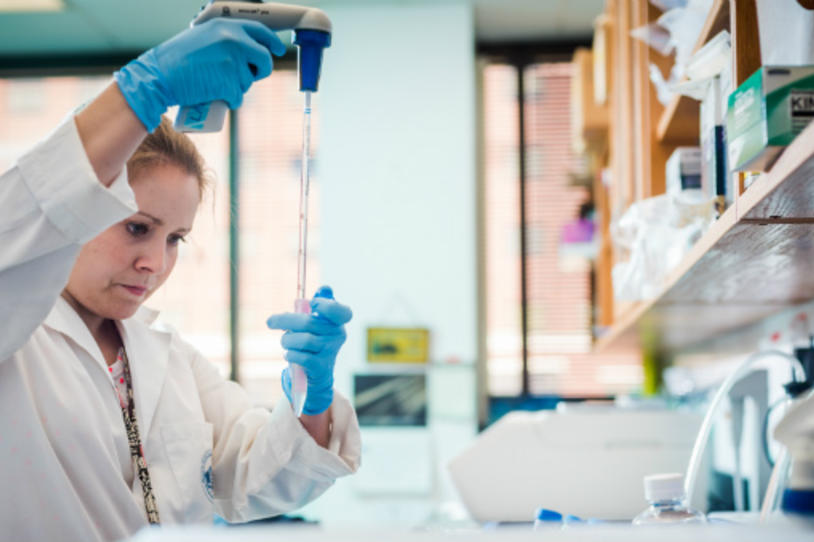 Researchers are one step closer to a game-changing tool that could help better measure Parkinson's onset and progression and assess the impact of new treatments.
Earlier this month, Michael J. Fox Foundation (MJFF) grantee AC Immune announced the start of its clinical study of PET tracer ACI-12589 to detect the toxic protein alpha-synuclein in the living brain of people with Parkinson's. AC Immune is one of three project teams funded through the $10-million Ken Griffin Alpha-synuclein Imaging Competition — a scientific race to develop a critical but elusive imaging tracer to visualize alpha-synuclein.
Alpha-synuclein clumps in the brains of nearly all people with Parkinson's disease (PD), and scientists believe this aggregation leads to cell death and PD symptoms. Currently, these clumps are only visible through post-mortem tissue analysis. A PET tracer is injected into the bloodstream and attaches to a target so it can be seen on a brain scan. Seeing alpha-synuclein in the living brain — where it is and how much is there, and how that changes over time — would transform research and patient care.
"An alpha-synuclein imaging tracer would allow researchers to test if a potential treatment slows or stops Parkinson's progression, accelerating critical breakthroughs urgently needed today," said Jamie Eberling, PhD, vice president of research programs. "We have supported AC Immune in the development of this tool since 2015, and the start of this trial is a critical step toward its widespread use."
As more therapies to slow or stop PD progression enter and advance in clinical trials, the need for objective measures of disease grows. Alpha-synuclein is a drug target, as well, with 13 treatments against the protein in clinical trials. Therapies against other targets could also use an alpha-synuclein PET tracer to assess their impact on Parkinson's pathology.
This news from AC Immune builds on MJFF's longstanding support of development of an alpha-synuclein tracer to track Parkinson's pathology. For more than a decade, we have supported this area of research through millions in grants to various scientific teams. Our Foundation funded AC Immune's first trial of an alpha-synuclein tracer in 2019. After promising results, but with limitations, the company optimized its compounds toward development of ACI-12589.
Also in 2019, the Foundation announced the Ken Griffin Alpha-synuclein Imaging Competition to spur momentum toward this tool. AC Immune, Mass General Brigham and Merck (known as MSD outside the U.S. and Canada) were awarded funding.
Additional funding for this project was provided through the generous support of the Demoucelle Parkinson Charity and the Stop Parkinson Walk.
Learn more about the Foundation's high-impact investments in transformative tools and about the winners of the Ken Griffin Alpha-synuclein Imaging Competition by reading our blog or press release.