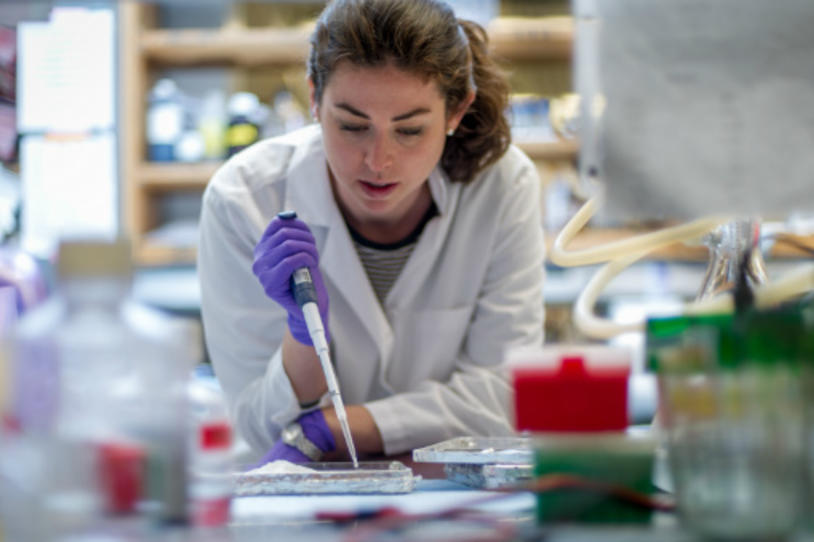 Nuplazid (pimavanserin), which is approved to treat hallucinations and delusions (psychosis) in Parkinson's disease, soon may be available to more patients. Acadia Pharmaceuticals recently submitted a supplemental new drug application to the US Food and Drug Administration (FDA) for the use of Nuplazid in people with dementia who experience psychosis. If approved, Nuplazid would be the first FDA-approved medication for this use.
What does this mean, specifically for people with Parkinson's and their families? Katherine Amodeo, MD, Assistant Professor in Neurology and Psychiatry in the Divisions of Movement Disorders and Memory Care at the University of Rochester in New York (Edmond J. Safra Fellowship in Movement Disorders Class of 2019) answers these questions and more.
The Michael J. Fox Foundation (MJFF): Let's start with some background. What is Nuplazid?
Katherine Amodeo (KA): Nuplazid is the only FDA-approved medication for psychosis in Parkinson's disease (PD). What that means is it's approved to treat hallucinations (seeing things that aren't there) or delusions (false beliefs) in people with Parkinson's. It works selectively on the receptor for the brain chemical serotonin to lessen psychosis. Because it doesn't impact the function of other brain chemicals, like dopamine, it doesn't worsen motor symptoms. Older antipsychotics, such as Haldol (haloperidol), block dopamine and worsen movement symptoms and therefore should not be taken by people with Parkinson's. But other antipsychotics, such as Seroquel (quetiapine) or Clozaril (clozapine), are less apt to block dopamine and worsen movement symptoms and therefore more commonly used in Parkinson's. (Read more about Nuplazid.)
MJFF: If the drug is already approved in Parkinson's, what does this potential new approval mean for people with PD?
KA: Right now, Nuplazid is not approved to treat psychosis in people who have dementia. (No drug is.) Some people with Parkinson's may — years or decades into life with the disease — experience dementia, a significant change in memory or thinking that interferes with a person's independent function or daily activities. And some people who have dementia also experience hallucinations or delusions (psychosis). For this group of people, Nuplazid, if approved by the FDA for this indication, would be a treatment option backed by safety and efficacy data.
MJFF: Speaking of data, could you tell us about the research on Nuplazid in people with dementia?
KA: The Phase III HARMONY trial looked at Nuplazid in nearly 400 people with different subtypes of dementia (Parkinson's disease with dementia, dementia with Lewy bodies, Alzheimer's disease, Frontotemporal dementia, and vascular dementia) who had psychosis. In the open-label part of the study, in which all participants took Nuplazid, over 60 percent had decreased or stable hallucinations and delusions. In the next phase, those who responded to medication were randomized to take either placebo or Nuplazid. The people who took Nuplazid were nearly three times less likely to experience a relapse of psychosis than those on placebo. Additionally, the drug was well tolerated over the nine-month trial, with no worsening of motor symptoms in people with PD.
MJFF: Now that a supplemental new drug application on Nuplazid is at the FDA, what's next?
KA: This is the last step on the way to approval of a new therapy or new use for an already approved drug. The FDA now will review the application to determine whether it is complete and ready for full review. If so, the FDA will decide on approval within six months.
MJFF: What else should people with Parkinson's know?
KA: Not everyone with PD experiences psychosis. And for some, it may not be bothersome — you could see a shadow go by or a friendly animal. Others may see scary things. Not everyone needs treatment, but if you do, there are options. These are not easy things to talk about, but conversation is key. Talk with your loved ones, support group and doctor. Together, there are many things, including both medication and non-medication strategies, that we can do.
For more, read a blog or watch a webinar on psychosis or download a guide on cognitive changes and dementia in Parkinson's.