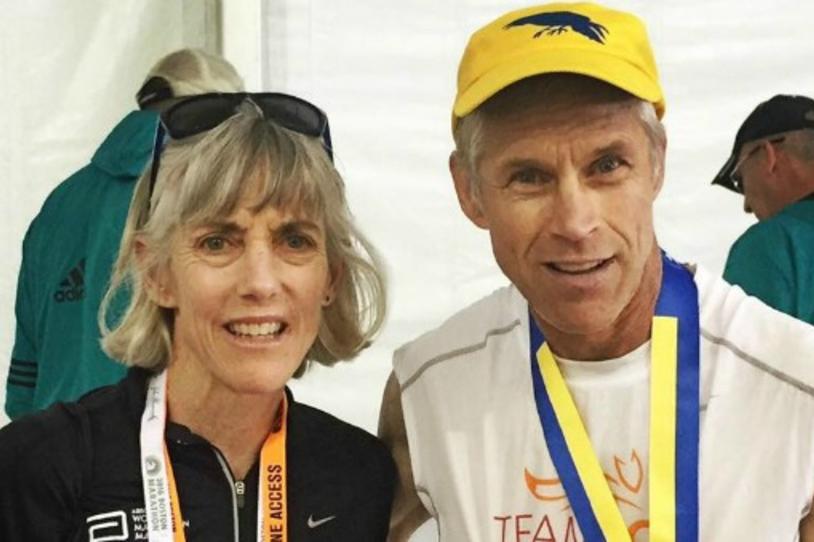 Olympic gold medalist Joan Benoit Samuelson has been running marathons competitively for decades -- but has yet to run one in her home state of Maine. That's all about to change.
On May 21, Joan will join Team Fox member Michael Westphal at the Sugarloaf Marathon in Kingfield, Maine. Runner's World recently profiled their storied marathon careers (stemming way back to high school) and why this race, in particular, has special meaning to them both. Joan explained that she has never before fundraised through her running, but that now seemed like the right time to get involved:
"This is about Michael [Westphal]," Samuelson says. "This is me giving back to the sport in a way that makes perfect sense and tells a really cool story. My first marathon was in '79 -- that was 38 years ago. I've never run a marathon in Maine. I think it is about time to do so. To do it in the week of my 60th birthday makes it an even sweeter story, and the fact that Michael and I are so close in age, and so close in our passion for the sport and for the state. This is about helping each other, and it's about Maine and about Parkinson's and Michael J. Fox."
Michael Westphal's triumphant return to the Boston Marathon in 2016 (in which he ran an incredible 3:38) came 10 years after his Parkinson's diagnosis and 23 years away from the sport altogether. As keynote speaker for the 2016 Team Fox MVP Awards Dinner, Michael explained that soon after his diagnosis he thought he'd have to hang up his running sneakers for good. But in the years since, Michael has laced back up, began to train, and in the process, learned that with time has also come acceptance of the disease:
Westphal says he has been inspired by [Michael J.] Fox. "One of the things he said was that the first thing you have to do when you accept the fact that you are going to be battling Parkinson's the rest of your life, is that you have to drop your vanity," Westphal says. "That struck a chord with me as far as lining up in public for road races because of the stares I would get. I had to learn that it didn't really matter what I looked like—the important thing was that I was living my life to the fullest and doing what I loved to do."
Join Michael Westphal and Joan Benoit Samuelson at the Sugarloaf Marathon! Register with Team Fox to run the marathon or 15K on Sunday, May 21 and receive free entry, Team Fox swag and an invitation to our post-race party. Can make it to Maine? Register to run virtually on the race course of your choice, or donate to help speed Parkinson's research.