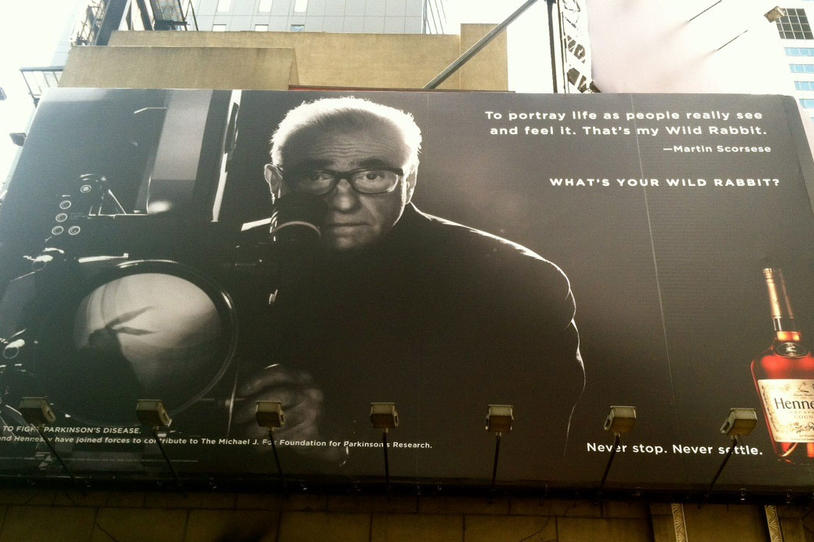 On April 5, Moët Hennessy unveiled the final component of their "Wild Rabbit" advertising campaign at a VIP reception in New York City. Film-making visionary and philanthropist Martin Scorsese was partnering with Hennessy to inspire fans to pursue their "Wild Rabbit" — the embodiment of one's inner drive to succeed. Also inspiring is the contribution that this collaboration would yield: a minimum gift of $250,000 to The Michael J. Fox Foundation.

In a taped video message that played at the reception, Michael J. Fox said, "Our wild rabbit is a cure for Parkinson's. We will never stop — or settle — until we capture it. Thanks to Marty Scorsese and Hennessy for joining us in the chase."


Thanks to the Brin Wojcicki Challenge, Martin Scorsese and Hennessy's commitment will be doubled — enabling MJFF to direct at least $500,000 toward critical PD research. The Foundation will also receive all proceeds from silent auctions of special edition prints by celebrated photographer Frank Ockenfels III, whose iconic images constitute the "Wild Rabbit" campaign.



One such image is currently on view in New York's Times Square. As part of the campaign, Hennessy created an interactive pop-up installation at West 49th Street and Broadway, featuring Martin Scorsese and highlighting the role of MJFF.

Along with Scorsese, Hennessy is spotlighting world champion boxer, politician and businessman Manny Pacquiao and multi-award winning musician, lyricist and poet Erykah Badu. Badu was on hand at the New York reception to give an exclusive performance.