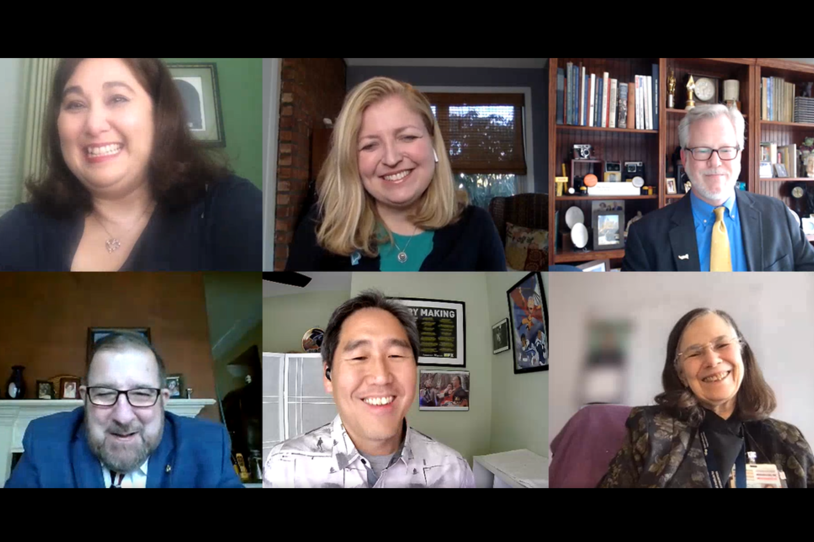 In late March, The Michael J. Fox Foundation for Parkinson's Research (MJFF) and the Parkinson's Foundation presented the 2020 Parkinson's Advocacy Awards at the Parkinson's Policy Forum.
The awards recognize outstanding individuals or groups who, in 2020, advocated on behalf of the Parkinson's disease (PD) community. The 2020 honorees are highlighted below.
Morris K. Udall Award for Public Service
Given to individuals who have made important contributions to public policy with humor, grace and dignity, in the spirit of Morris "Mo" K. Udall. Mo served in the House of Representatives for 30 years and was a candidate for the Democratic presidential nomination in 1976. Many of today's leaders — on both sides of the aisle — have cited Mo as a role model. He was diagnosed with Parkinson's in 1980 and died of complications from the disease in 1998.
This year's award winners were chosen for their dedication to eliminating toxic chemicals from the environment. During the 116th Congress, these members of Congress were lead authors on bills to ban paraquat.
Congresswoman Nydia M. Velázquez, New York
Congresswoman Nydia M. Velázquez is currently serving her fourteenth term as Representative for New York's 7th Congressional District. In the 116th Congress, she is the Chairwoman of the House Small Business Committee, a senior member of the Financial Services Committee and a member of the House Committee on Natural Resources. She is the lead on H.R. 3817, Protect Against Paraquat Act, which bans paraquat.
Congressman Joe Neguse, Colorado
Congressman Joe Neguse represents Colorado's 2nd District in the U.S. House of Representatives. He was elected to his first term in November 2018, becoming the first African American member of Congress in Colorado history. He serves as a member of the House Judiciary Committee, House Natural Resources Committee and the House Select Committee on the Climate Crisis. Watch a video of Joe Neguse accepting the award.
Senator Thomas Udall, New Mexico
Thomas Udall served as a United States Senator for New Mexico from 2009 to 2021. During his time in Congress, he championed many environmental bills.
Rep. Neguse and Sen. Udall were the House and Senate lead on H.R. 7940 / S. 921 The Protect America's Children from Toxic Pesticides Act of 2020 (PACTPA) which integrates the Protect Against Paraquat Act into a more comprehensive pesticide reform bill and bans paraquat from sale in the United States.
Outstanding Advocacy Award
Recognizing the unique year that was 2020, this award recognizes advocates who continued their advocacy in their own ways. They engaged with legislators and their staff; stayed connected with the Parkinson's community on social media; worked at every level of government to advocate on behalf of the Parkinson's community; networked and recruited additional advocates; and used their special talents to promote Parkinson's priorities.
Dan Harvey, Massachusetts
Our Foundation joins the Parkinson's community in mourning the loss of Dan Harvey, a Massachusetts advocate who passed away in December 2020. He participated in several Policy Forums, engaged year-round with lawmakers, and helped to organize a strong group in Massachusetts advocating at the local, state and federal levels. Dan inspired other people with PD, their care partners and their families to get involved.
María L. De León, MD, Texas
María L. De León, MD, is a movement disorder specialist, avid research advocate and MJFF Patient Council member. She has been a champion for understanding gender differences in neurological diseases and decreasing the disparity in health care treatment among minorities. She also works with the Department of Defense in helping secure grant money for Parkinson's research.
John Humphreys, Georgia
John Humphreys is a tireless advocate for the Parkinson's community. Diagnosed in 2008, John is committed to clinical research and has participated in over 300 studies. Not only has John attended the past five Policy Forums, he is also known to reach out to his legislators at all levels throughout the year. John is an ambassador for advocacy, recruiting and mentoring others.
Caroline Tanner, MD, PhD, California
Caroline Tanner, MD, PhD, is professor of neurology at the Weill Institute for Neurosciences, University of California, San Francisco. Her clinical practice specializes in movement disorders, particularly Parkinson's disease, atypical parkinsonism and dystonia. Her varied research interests include epidemiological investigations with a focus on how environmental factors contribute to disease, and her work linked exposure to commonly used pesticides such as rotenone and paraquat with increased risk of Parkinson's disease.
Edwin Zane, California
Edwin Zane is a television producer and documentary filmmaker. He grew up with his father in Paia, a small, rural town on the island of Maui, Hawaii. For 22 years, his father, Ronald, worked in the parks and recreation department and was exposed to herbicides and pesticides. In 2014, Ronald was diagnosed with Parkinson's disease. Edwin has used his unique talents to advocate for Parkinson's research.
Want to stay up to date on Parkinson's policy issues? Sign up at michaeljfox.org/advocacy.