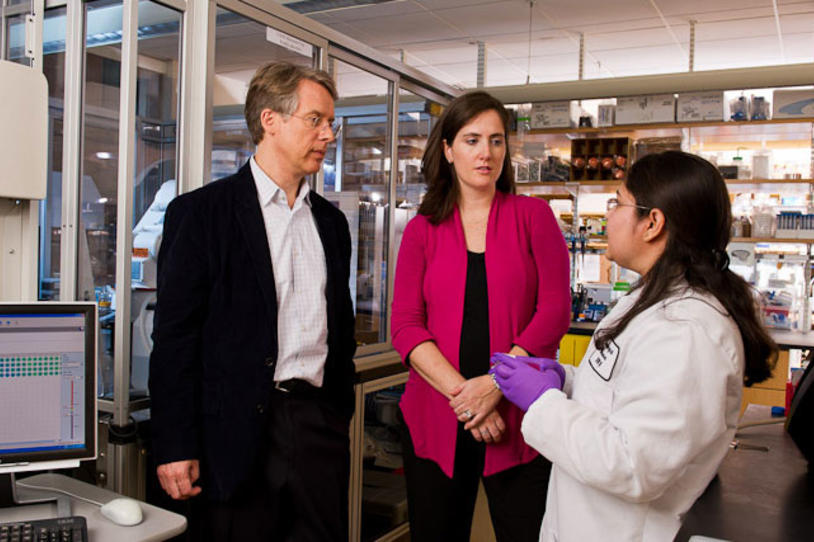 "Parkinson's comes into someone's life," says Co-Founder and Executive Vice Chairman Debi Brooks, "and I think there is a moment in which everyone pauses and asks, 'What can I do?' What inspires me at the Foundation today is that there are more and more ways to answer that question. Every day, people are finding their own way to be engaged. Together, our combined efforts make us more powerful."
Register for Fox Trial Finder

Did you know that you can help speed breakthroughs by participating in clinical research? Already, 3,000 people have raised their hands to participate. Underenrollment, by people with and without Parkinson's, slows research progress — and patients pay the price in terms of higher costs and longer time horizons to new treatments. At MJFF, we knew patients were willing to participate, so we developed Fox Trial Finder, a Web-based solution to connect willing volunteers with the specific trials that need them. Initially rolled out in the U.S. in July 2011, Fox Trial Finder will formally launch in April 2012, and we hope to grow our ranks of participants in Canada, the U.K, Australia and Western Europe.
"A lot of new biological information has been discovered in the last five or 10 years through PD research, and we're at the stage where it's being translated into treatments," says MJFF CEO Todd Sherer, PhD. "This is exciting news — and an exciting opportunity for patients to play a key role in actually getting these treatments onto pharmacy shelves."
Help us reach our goal of 10,000 volunteers by the end of 2012. Create your profile now at www.foxtrialfinder.org.
Join Team Fox
Many others get involved through Team Fox, MJFF's grassroots community network to raise funds and awareness, which has grown dramatically since its launch in 2006. With more than $15 million raised and 1,500 current members, this group embodies our message of can-do optimism and action across the country and around the world — and its numbers only continue to increase.
You can join our athletic program and participate in a sponsored race or existing event on behalf of Team Fox. Or choose to create your own fundraiser and let your talents lead you to your Team Fox event. The event that's perfect for you is wherever your passions lie.
Tap into the Community — at Home and Online
Now MJFF's knowledge and expertise comes to you wherever you are through educational offerings such as Research Roundtables and support group presentations. Learn more and register for the 2012 Seminar Call Series on Hot Topics in PD. Take part in the community online, by joining MJFF's more than 100,000 Facebook fans or 10,000 Twitter followers (@MichaelJFoxOrg). You can listen to our podcast series online. To get the latest news in PD research, explore the Foundation blog at blog.michaeljfox.org.
It's up to you how you choose to help speed a cure to PD. No matter the path, you can be part of the answer.
Learn more about how you can get involved by listening to this podcast with Debi Brooks.
Published in the Spring 2012 issue of "Accelerating the Cure."